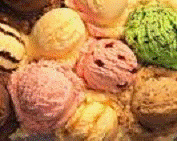 1 gallon size re-sealable bag
1 pint size re-sealable bag
1 tablespoon sugar
½ cup half-n-half
¼ teaspoon vanilla
½ cup rock salt
ice
You will also need some wild and crazy party MUSIC!
You can choose oldies, rock, pop music; whatever makes you want to get out on that kitchen floor and SHAKE IT!!! Shaking up the ingredients is the most important part of this recipe. The more you dance the better your ice cream will be!
Directions
Combine the sugar, half-n-half, and vanilla in the pint size bag and seal tightly. Combine the ice and rock salt in the large bag. Place the small bag in the larger bag and seal. Turn on your music and SHAKE IT until the mixture turns into ice cream (about 5 minutes or 2 really groovy songs). Add Sprinkles, nuts, chocolate chips, enjoy!
Hint:
if the ice in the bag leaves your hands too cold to strut your dancing stuff, try wearing a pair of winter gloves while you shake.
---
Join the Cook'n Club!An unbeatable value with exclusive benefits for members only.
Enjoy articles like this and many other benefits when you join the Cook'n Club.
---