Here is a cool, refreshing, recipe idea for summer get togethers.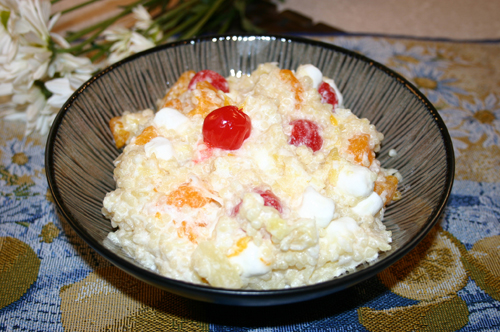 Frog's Eye Salad Recipe from the Video

DVO Recipe Center
Serves: 5




1 package acinni de pepe pasta
2 20-ounce cans crushed pineapple
1 20-ounce can pineapple chunks
1 ¾ cups pineapple juice (use juice from the canned pineapple)
2 tablespoons flour
1 cup sugar
1 tablespoon lemon juice
1/3 teaspoon salt
3 11-ounce cans mandarin orange segments
1 small jar maraschino cherries, drained and rinsed
1 cup coconut
1 9-ounce carton cool whip
3 cups miniature marshmallows

Follow package directions to cook pepe pasta. While water is boiling, drain the juice from all 3 cans of pineapple into a separate pan. Put pineapple into a large mixing bowl and set aside. Combine flour and sugar and add to pineapple juice, along with lemon juice, and salt. - Cook until it thickens to a syrup consistency. When pasta is done cooking, strain and rinse in cold water until cool. Add pasta and thickened syrup to the pineapple. Let sit overnight (or at least 3 hours). Fold in oranges, cherries, coconut, cool whip and marshmallows. Salad is ready to serve.



Click here to download this recipe to Cook'n. If you don't have Cook'n yet,
click here to Download Cook'n, the #1 best-selling
recipe software with over 1 million copies sold!