Go Exotic
by Amy Hunt
If you ever get weary of the same old broccoli and carrots--- GO EXOTIC! Try out some of the not so standard vegetables--- you know, the ones that will stump the cashier at the grocery store. Add a little "umpf" to your 5 a Day. Even if you can't get your kids to go for everything at least you'll be introducing them to a world beyond carrots.

Here is a list of exotic vegetables to get you started.
Belgian endive. This type of lettuce has a mild, slightly bitter flavor, and is packed with fiber, iron, and potassium. Use it in salads and instead of crackers with vegetable dips.



Jicama (HEE-kah-mah). Known as the Mexican potato, jicama is a root tuber (like potatoes). Buy it smooth and firm with unblemished roots. Serve it peeled, cold, and raw in thin slices or strips, either straight up with a dip or in salads or coleslaw. Or throw it into soups, stews, or stir-fries. It works great as a substitute for water chestnuts.

Bok choy. An Oriental cabbage, bok choy is excellent chopped and stir-fried in a bit of peanut oil and soy sauce. Or throw it into soup just before serving.

Chayote (chi-OH-tay) squash. A summer squash native to Latin America, chayote squash is also known as vegetable pear because of its shape and color. It has a mild taste, like zucchini, with a slightly citrus tang. You don't have to peel it, and the seeds inside are edible. Just cut into cubes, add 1 cup water, cover, and microwave for about 8 minutes.

Kohlrabi. A member of the turnip family, it is often called a cabbage turnip. It's sweeter, juicier, crisper, and more delicate in flavor than a turnip. The cooked leaves have a kale/collard flavor. Trim and pare the bulb to remove all traces of the fibrous under layer just beneath the skin, then eat raw, boil, steam, microwave, or sauté, or add to potato casseroles.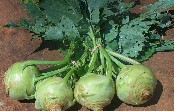 Fennel. Also known as sweet anise, fennel has a sweet, mild licorice flavor. The feathery fronds can be used as an herb, like dill weed, to flavor soups and stews. The broad, bulbous base is treated like a vegetable and can be eaten raw, or sliced and diced for stews, soups, and stuffing.

Spaghetti squash. Also called vegetable spaghetti, this oval-shaped yellow squash is a relative newcomer and a novel one: When cooked, the flesh of the squash can be pulled apart to form slender strands that resemble spaghetti.


* DVO welcomes your kitchen hints and cooking or nutrition questions! Email us and we'll post your hints and Q/A's in upcoming newsletters! *