Eight Ways to Eat Zucchini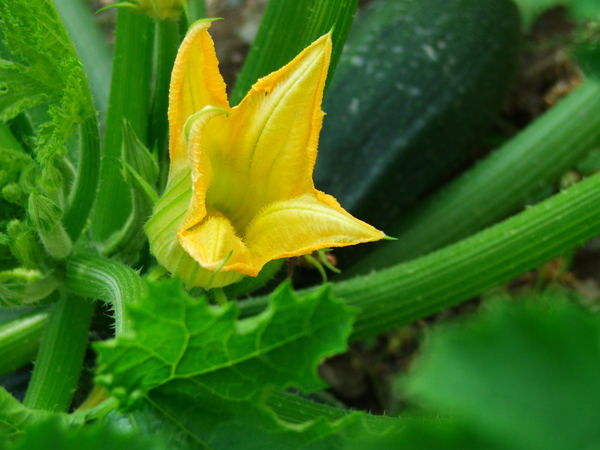 ---
Have you ever found a zucchini on your porch? It seems to be a common occurrence in my neighborhood. Abnormally large zucchinis seem to pop up out of nowhere and find a nice home on an unsuspecting porch. Is this free zucchini supposed to be considered a gift?
When one plants a zucchini plant in their garden one often does not fully comprehend the bounty that will come forth from such a small start. And that, my friends, is why my neighbors "secretly" pawn off their extra zucchinis on my front porch. It is amazing how much a zucchini plant can produce. Instead of throwing out the extra, some people feel inclined to give it away.
So what do I do with all these gifts? I can only make zucchini bread so many times before my family rebels and stops eating it. But for some strange reason I feel obligated to use it up. Here are some of the ways that I have prepared zucchini.
Sauté zucchini, peppers, and onions and add to scrambled eggs.
Shredded zucchini can be added to tomato-based sauces with out altering the taste too much. Zucchini will bulk up sauces from a bottle. Your kids won't notice.
Fried zucchini is a great side dish, and a nice alternative to French fries. Dip zucchini slices in beaten eggs and then in Italian breadcrumbs mixed with some Parmesan cheese. Fry until tender in a hot skillet with a little olive oil. I like these dipped in ketchup.
Zucchini is wonderful addition to stir-fries. This is one of my favorite side dishes. Cut zucchini length wise into quarter inch think slices. Brush both sides with olive oil and sprinkle lightly with Italian seasoning. Place the slices directly onto a hot grill and cook until fork tender, turning once. I also grill onions, portabella mushrooms, peppers, and yellow squash all the same way. This dish is not only beautiful but also very tasty.
Slip zucchini into casseroles.
Zucchini goes well on shish kabobs.
---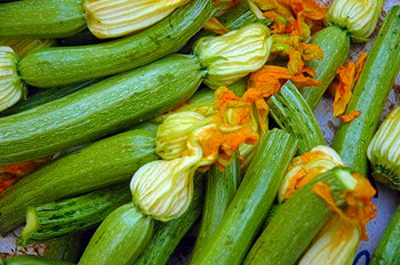 And who can forget Aunt Betty's Cheesy Sausage Zucchini Casserole?
1/2 cup uncooked white rice
1 cup water
1 pound pork sausage
1/4 cup chopped onion
1 cup diced fresh tomato
4 cups cubed zucchini squash
2 (4 ounce) cans sliced
mushrooms, drained
1 (8 ounce) package processed
cheese food, cubed
1 pinch dried oregano
salt and pepper to taste
Combine the rice and water in a small saucepan, and bring to a boil. Reduce heat to low, and simmer for about 20 minutes, or until tender. Remove from heat, and set aside.
Preheat the oven to 325 degrees F (165 degrees C).
Cook sausage and onion in a large skillet over medium heat, stirring until evenly browned. Drain excess grease. Stir in zucchini and tomatoes, and cook until tender. Stir in rice, mushrooms, and cheese. Season with oregano, salt, and pepper. Spread into a 9x13 inch baking dish, or a 2 quart casserole dish.
Bake, uncovered, for 1 hour in the preheated oven, or until lightly browned and bubbly.

---
* DVO welcomes your kitchen hints and cooking or nutrition questions! Email us and we'll post your hints and Q/A's in upcoming newsletters! *