A Talking Tablecloth
by Amy Hunt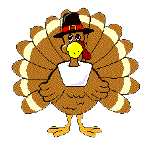 Forget the nice fancy tablecloths at this years Thanksgiving Dinner. Instead, go for something that will entertain both children and adults alike.

Long before dinner is served, cover your tables with white butcher paper and dump out a few boxes of crayons on top. Instruct your family and guests to write on the paper what they are thankful for this Thanksgiving, or fun memories from the past year. Encourage creativity and illustrations.
Then while bellies are being filled the room will be filled with laughter as you discuss what has been written on the table. This is a great way to get children, and adults, to think and talk about what they are most thankful for.