Fluff Your Omelet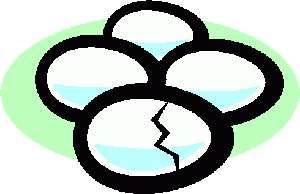 I am trying to find the best "fluffy" omelet recipe. I can never seem to get mine as fluffy as the local chain restaurants.
-- Jim Dupuis
Jim,
Here are some different ideas I found for fluffy omelets. Hope one of them will help you create the omelet you desire.
Use water to make omelets fluffy. Use 1 tablespoon water per egg.
To make a fluffy omelet, add ½ teaspoon baking soda for every three eggs.
Heat a non-stick pan and add a little more butter than usual. Now beat the egg and stir briskly (even while frying) with a fork. This way more air goes in your omelet, making it light and fluffy. Fry till done and serve hot.
Hope this helps,
Desi @ DVO
Email your thoughts to us. Tell us about you and your family, and send us a picture. We'd love to hear from you...and who knows...perhaps you will be the star of the next newsletter!