Fat Substitutions
by Amy Hunt

Learning how to cook in my mother's home meant lots of butter and cream. "After all," she'd say, "that's what makes it good." This meant that there was plenty of melted butter in the skillet before the veggies were added. My mother also makes the creamiest and richest clam chowder on Earth—it's my favorite.
Coming over to the low fat lifestyle does not mean that I will no longer have clam chowder, I will just be smarter about what goes into it. The following is a list of fat substitutions that will allow you to achieve your baking and cooking masterpieces with out unnecessary fat.
Olive oil in place of cooking oils and butter or margarine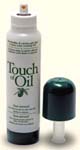 All oils are 100% fat. There is no way around it. Each one contains 14 grams of fat and 120 calories per tablespoon. However, olive oil delivers a bonus. It contains more monounsaturated fat (77 percent) than any other fat or oil. In many studies, monounsaturated fat has been shown to lower the levels of LDLs (bad fats) in blood serum cholesterol without decreasing the levels of HDLs (good fats). In contrast, canola oil contains 62-percent monounsaturated fat, peanut oil has 49-percent, butter has 30-percent, corn oil has 25-percent and safflower oil has 13-percent.
This does not mean that you should add a splash of olive oil to your recipes just so you can reap its benefits. Remember fat is still fat. All oils are 100% fat and too much is not good. By using olive oil instead of other oils you are being careful about the kind of fat you consume.
In many cases it is possible to substitute olive oil into your recipes. When recipes call for cooking oils or fats, try olive oil instead. It's easy — where you would usually use cooking oils such as vegetable or canola oil, or fats such as butter or margarine, just substitute olive oil. It's better for you all around. As a rule of thumb, substitute the exact amount for other cooking oils and use just a touch less olive oil than you would use butter or margarine.
Always smell and taste olive oil before deciding whether to use it. Oils are volatile and can lose their flavors and go rancid when exposed too long to heat, moisture, air or light. Rancid fat not only spoils the taste of baked goods, but it is unhealthy to ingest. Store olive oil in an opaque container in a cool, dark place. You also can refrigerate it if you wish. The oil may become cloudy when it is cold, but it will clarify as it warms to room temperature.
Reduced calorie or low fat butter or margarine

A lighter alternative to regular butter or margarine is reduced calorie or low fat butter or margarine. These products have water and air added, and contain at least 20 percent less fat than their regular counterparts. Check the label- some brands may even be fat free. Hold off on cooking and baking with these products - they're best used as a spreader or a topper.
Vegetable oil spreads are margarine products with less than 20 percent fat. It's a good idea to check the back of the spread container where you'll find a breakout of the different types of fats in the product. Choose a product with at least a 2-to-1 ratio of polyunsaturated fats to saturated fats. Vegetable oil spreads, like margarine, can be used for a number of purposes, from spreading to cooking to baking. Because the percentage of fat is lower than for margarine, the amount of water is increased, which can affect the texture and quality of certain baked items. Generally for baking, you don't want to use spreads with less than 65 percent fat. You'll find vegetable oil spreads sold in sticks, in tubs and as a liquid squeeze spread.
Pureed fruit
Butter, margarine, oil, shortening and eggs are the primary sources of fat. Replacing butter or margarine is a challenge. Applesauce, yogurt, pureed prunes and mashed bananas as well as baby food all work, but none can be substituted for all the fat in a recipe without sacrificing the taste, texture and appearance. Overall, applesauce and yogurt work the best in most recipes. They add the necessary moistness and won't alter the flavor as much as prunes and bananas will.
The flavor of prune puree is especially good with chocolate, spice and carrot cakes. Prune puree mixtures are now sold in the grocery store in the baking section; the label may state that it's a butter and oil or fat replacer (follow label directions for use). Mashed bananas work well in carrot and banana cakes and muffins.
For the best texture and flavor, it is recommend replacing about half of the fat (butter margarine, shortening, oil) in a recipe with applesauce, yogurt, pureed prunes, mashed bananas or baby food.
You can also replace a portion of the oil with buttermilk. You may have to play around a bit depending on the recipe, but if a recipe calls for milk, try replacing 1/3 of the oil called for with buttermilk. You should increase the baking powder by about 1/4 teaspoon, to replace lost volume.
Soup thickeners

You don't have to give up the rich, hearty texture of a thick cream soup - just the guilt. For wonderfully creamy low-fat soup, try one of these simple soup thickeners:
Mix in some mashed potatoes or cooked rice. Place potatoes or rice with a little of the soup liquid in a blender. Cover and blend until smooth. Stir into soup.
Make a puree. Puree one or more of the vegetables used in a soup or stew by placing the cooked vegetable in a blender or food processor with a little of the soup liquid. Cover and blend until smooth. Stir the mixture into the soup. Or blend all the soup with some fat free (skim) milk, fat free sour cream or plain fat-free yogurt.
Add dry instant mashed potato mix. Stir in 1 tablespoon at a time, and cook for one minute. Soup still to thin? Add a little more. Be careful not to add it too quickly, however, as it is easier to put it in than it is to take it out.


* DVO welcomes your kitchen hints and cooking or nutrition questions! Email us and we'll post your hints and Q/A's in upcoming newsletters! *