Old Fashioned Christmas Candies
by Amy Hunt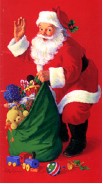 Mints, buttercreams, fudge, toffee… need I say more? Add some fun to your holidays with some old-fashioned holiday candies. You will be surprised at how easy it is to make Christmas candies in your own kitchen. Turn up some holiday music and gather the whole family while making up different goodies.
Here are some recipes to try to get you started.
---
Quick Chocolate Mints
2 ( 10 oz.) packages mint semisweet chocolate chips
1 ( 14 oz.) can sweetened condensed milk
1 tsp. vanilla extract
Using a glass bowl, combine chips and sweetened condensed milk. Microwave on High for 1 and 1/2 minutes and stir well. Heat another 1 to 1 and 1/2 minutes more or until mixture is smooth and chocolate is melted when stirred. Stir in vanilla. Turn into a buttered 8 inch square pan. Refrigerate for 2-3 hours or until firm. Cut into 25 squares. Store, tightly covered, in refrigerator.

Help on downloading recipes
---
Vanilla Buttercreams
2 lbs. confectioners' sugar
1/4 lb. butter, softened
1 ( 8 oz. ) pkg. cream cheese, softened
1/2 tsp. vanilla extract
Chocolate chips, or chocolate wafers (for molded candy)
Cream butter and cheese, slowly add sugar and vanilla and mix well. Pinch off small pieces and form into a round shape and refrigerate overnight. Melt your chocolate carefully in a double boiler. Dip in melted chocolate. Store in refrigerator but serve at room temperature.

Help on downloading recipes
---
Fannie Farmer's 1931 Chocolate Fudge
2 tablespoons butter
4 cups sugar
2 teaspoons vanilla extract
1 1/2 cups light cream
4 squares chocolate
1/4 teaspoon cinnamon
Melt butter in a pan 8 x 8-inch, add sugar, cream and chocolate, stir gently until chocolate melts. Boil without stirring to 238 degrees or until mixture forms a soft ball when dropped into cold water. Remove from heat, let stand until cool and add flavoring. Beat with a wooden spoon. Pour 3/4-inch thick into a buttered pan and mark in squares.

Help on downloading recipes
---
Christmas Toffee

1 cup butter
1 cup chopped walnuts or pecans
1 cup granulated sugar
3 plain chocolate bars, broken

Spread nuts on a greased 13x11 cookie sheet. In saucepan combine margarine and sugar, melt and bring to a boil. Stirring constantly boil until mixture turns a golden brown, about 10-12 minutes. Watch carefully! Pour toffee mixture over nuts. Place chocolate pieces over hot toffee and spread with a knife. Place in cool place. When hard, break into pieces. Note: You can use chocolate chips in place of bars.

Help on downloading recipes
* DVO welcomes your kitchen hints and cooking or nutrition questions! Email us and we'll post your hints and Q/A's in upcoming newsletters! *