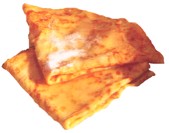 You can think of crepes as a blank canvas in your kitchen. Crepe making time is a creative time. They can be suited to fit just about any taste and occasion. Their versatility can be celebrated from the breakfast nook to an elegant dinner party. But who has time to make this French classic…? You Do! Don't let the fancy name steer you away. Crepes will surprise you with their simple sophistication.
The batter contains only basic ingredients (unless of course you want to liven' it up) and the cooking process takes less than 2 min. However, always think of the first one as a practice piece, that way you can get the temperature and timing right.
These delicate little "pancakes" can be filled with lobster to make an elegant appetizer or strawberry jam for a fun dessert. Just take a look at a few of the recipes that follow for the enduring symbol of sophisticated, simple French cuisine ~ la crêpe.
Basic Crepe
1 c. flour
2 eggs
1 3/4 c. milk
1/2 tsp. salt
1 tbsp. butter, melted
Mix flour and eggs with a wire whisk. Add rest of ingredients. Brush a 4 or 6 inch skillet with butter, pour in 1 tablespoon melted butter. Tilt pan to cover bottom. Cook quickly on both sides. Add more milk for thinner batter. Add 1 tablespoon of sugar for a dessert pancake.



* DVO welcomes your kitchen hints and cooking or nutrition questions! Email us and we'll post your hints and Q/A's in upcoming newsletters! *