Tortilla Soup
DVO Recipe Center
Serves: 4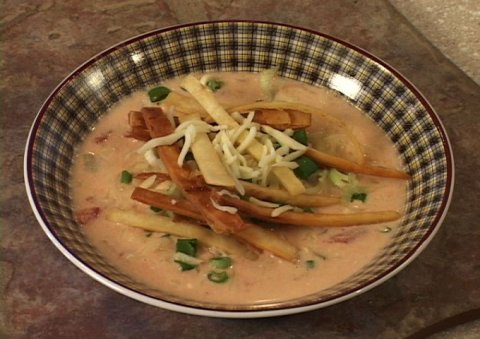 Click here to see how to prepare Tortilla Soup: 56k | 300k. Although Dan and Colleen look pretty smooth, they had a cheese problem that we turned into a blooper. Click here to see the blooper video. Click here to find out more about the cool Tortilla Maker that was mentioned in the video.



3 tablespoons butter
1/2 of a large onion
6 ounce can of Hatch's roasted chiles, chopped
2 14-ounce cans of tomatoes, drained
1 8-ounce cream cheese, diced
1 14-ounce can chicken broth
1 1/2 cups half-and-half
4 teaspoons fresh squeezed lemon juice
1/8 teaspoon garlic, minced
1/8 teaspoon cayenne pepper
1/8 teaspoon cumin
1/2 teaspoon salt
12 ounces of chicken, cooked, diced
3 flour tortillas
2 tablespoons vegetable oil
Monterey Jack Cheese, shredded
Diced onions

Sauté onions in butter. Add chiles and tomatoes. Cook 8-10 minutes. Add cream cheese. Stir till melted. Add broth and remaining ingredients. Stir to incorporate but do not boil.

Slice tortillas into 1/2-inch strips. Heat 2 tablespoons oil in frying pan. Add strips to oil and fry until brown on both sides.

To serve, ladle soup into bowl. Top with fried tortilla strips, shredded Monterey Jack cheese, and diced onions.



**Let Cook'n do the math for you. Just enter the number of people you'd like your recipe to serve and then print out the multiplied recipe and shopping list!

Help on downloading recipes
Be sure to check the Cook'n Recipe Archive for more recipes.