Spicy Carrot Loaf
DVO Recipe Center
Serves: 6
2/3 cup orange juice or pineapple juice
1/2 cup raisins
3 cups Quick Bread and Muffin Mix
1/2 teaspoon cinnamon
1/2 teaspoon nutmeg
1/2 teaspoon ginger
1/2 cup vegetable oil
2 eggs
1 cup grated carrots
1/2 cup crushed pineapple
1/2 cup chopped nuts, optional

Bring 3/4 cup orange or pineapple juice to a boil. Pour over 1/2 cup raisins and let soak for 15 minutes. Meanwhile, in a medium bowl, place Quick Bread and Muffin Mix. Stir in cinnamon, nutmeg, and ginger. Make a well in the center. Combine the oil, eggs, carrot, pineapple, and nuts in a separate bowl. Drain raisins, reserving 3 tablespoons of juice, and stir raisins and 3 tablespoons juice into carrot mixture. Pour all at once into the dry ingredients, and stir just until moistened. Pour batter into greased loaf pans. Bake at 350 degrees for 50-60 minutes or until a toothpick comes out clean when inserted in center. Cool on rack for 5 minutes and then turn out of pan to finish cooling. Makes one 8 1/2 x 4 1/2" loaf or two 7-1/4 x 3-1/2" loaves.


Help on downloading recipes
Be sure to check the Cook'n Recipe Archive for more recipes.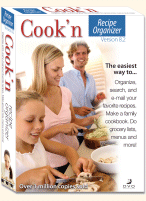 for Windows 9x/2000/ME/NT/XP/Vista

Not sure what to order?

Piles of recipe cards in your drawer?
Download Cook'n today and get organized!
Cook'n Cookbook Software Download - MSRP $99.95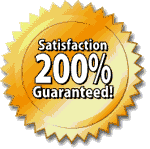 (Save 20%)
Download: $79.95

CD: $79.95



Buy the CD or download the full version of Cook'n right now! Includes over 300 of our best recipes.