Sesame French Bread
DVO Recipe Center
Makes: 1 Large Loaf or 2 Skinny Ones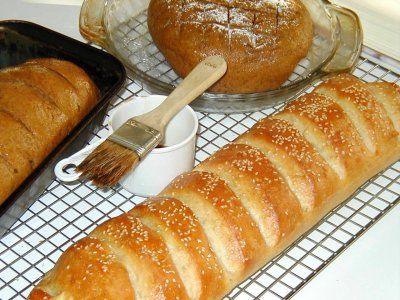 1 cup warm water (105-115 degrees F.)
2 1/4 teaspoons active dry yeast
1 tablespoon sugar
1 1/2 teaspoons salt
2 tablespoons shortening
3 cups flour, divided
Sesame seeds

Dissolve yeast in water with a pinch of sugar. Set aside for 5 minutes. In a large bowl, combine 2 cups flour, sugar, and salt. Cut in shortening to resemble coarse crumbs. Make well in center and pour dissolved yeast into it. Draw the dry ingredients into the liquid until all the flour is incorporated. Add up to 1 cup flour to make a stiff dough.

Sprinkle a board with flour, turn out dough onto it, cover and let relax for 10 minutes. Knead well. Place in greased bowl, cover, rise until double. Punch down, and let rise again until double.

Turn out dough onto lightly greased surface. Let rest 10 minutes. Flatten with a rolling pin into a rectangle about 1/4 inch thick. Roll up dough tightly, pinching the seam after each turn, to make a long, slender loaf. Pinch final seam firmly to roll to seal.

Sprinkle cookie sheet with cornmeal. Place loaf on sheet and slash 1/2-inch deep with diagonal gashes. Brush with and egg wash (1 egg white, 1 tablespoon water, 1 teaspoon salt; beat together). Sprinkle with sesame seeds. Let rise, uncovered, until doubled in bulk.

Preheat oven to 425-degrees F. Place large pan (metal, not glass) of boiling water in the bottom of the oven; place the bread on a rack above the water. Bake for 10 minutes. Brush again with the egg wash. Reduce the heat to 375-degrees F. and bake until the bread is golden brown and sounds hollow then tapped. Remove to a cooling rack.

Notes: The dough can be divided in half for baguettes, or made into crusty rolls, pizza, or English muffins.



**Let Cook'n do the math for you. Just enter the number of people you'd like your recipe to serve and then print out the multiplied recipe and shopping list!

Help on downloading recipes
Be sure to check the Cook'n Recipe Archive for more recipes.