Pumpkin Cheesecake
DVO Recipe Center
Serves: 8
CRUST:
1 1/2 cups graham cracker crumbs (about 21 squares)
1/4 cup sugar
3/4 teaspoon cinnamon
1/4 teaspoon nutmeg
1/3 cup butter or margarine, melted
FILLING:
1 8-ounce package cream cheese, softened
1 1/4 cups canned pumpkins
2/3 cup brown sugar
1 teaspoon vanilla extract
1 1/2 teaspoons pumpkin pie spice
2 eggs

Preheat oven to 350 degrees. Combine crumbs, sugar, and spices. Stir in melted margarine. Press crumb mixture into 8 or 9" pie plate. Bake at 350 degrees for 5-8 minutes. Remove from oven and cool.

For filling, thoroughly combine cream cheese, pumpkin, brown sugar, vanilla and pumpkin pie spice. Slowly add eggs to mixture. Beat well. Pour into crust. Bake at 350 degrees for 30-40 minutes or until center is set and knife inserted in center comes out clean. Cool on a cooling rack for one hour. Chill several hours or overnight. Top with whipped cream to serve.

Lightening Up Tips and Variations on this Recipe

To lighten the calories in this cheesecake, try one or all of the following:
· Use fat free or Neufchatel cream cheese to reduce the fat in this recipe.
· Top with light whipped topping or Dream Whip made with skim milk.
· Replace eggs with an egg substitute according to package instructions.
· Use margarine instead of butter in the crust.

Top and Bottom Ideas:
· Mix 1/3 cup canned pumpkin into 2 cups of whipped topping and season to taste with cinnamon or pumpkin pie spice.
· Mix up this streusel topping and sprinkle on cheesecake once center is set: 1/3 cup margarine, 1 cup brown sugar, 1 cup walnuts, chopped. Put back in oven and bake for 5-10 more minutes.
· Beat 1 1/2 cups sour cream, 1 1/2 tablespoons sugar, and 1 teaspoon vanilla until very smooth. Spread over cheesecake after set. Bake for 5 more minutes.
· Use 1 1/2 cups gingersnap crumbs instead of graham crackers for the crust. No need to add sugar, cinnamon, and nutmeg. Reduce butter to 1/4 cup.


Help on downloading recipes
Be sure to check the Cook'n Recipe Archive for more recipes.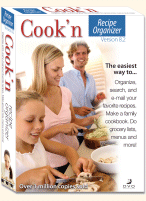 for Windows 9x/2000/ME/NT/XP/Vista

Not sure what to order?

Piles of recipe cards in your drawer?
Download Cook'n today and get organized!
Cook'n Cookbook Software Download - MSRP $99.95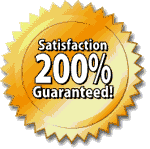 (Save 20%)
Download: $79.95

CD: $79.95



Buy the CD or download the full version of Cook'n right now! Includes over 300 of our best recipes.