Pumpkin Cheese Roll
DVO Recipe Center
Serves: 6
3 eggs
1 cup sugar
2/3 cup pumpkins, canned
1 teaspoon lemon juice
3/4 cup flour
1 teaspoon baking powder
2 teaspoons cinnamon
1 teaspoon ginger
1/2 teaspoon nutmeg
1/2 teaspoon salt
1/2 cup walnuts, chopped
1/4 cup powdered sugar
FILLING:
2 3-ounce packages cream cheese, softened
1/4 cup margarine, softened
1 cup powdered sugar
1/2 teaspoon vanilla extract

Preheat oven to 375 degrees F. Beat eggs till lemon colored, about 5 minutes. Gradually beat in sugar. Stir in pumpkin and lemon juice. Mix flour, baking powder, cinnamon, ginger, nutmeg, and salt in separate bowl; add to egg-pumpkin mixture. Grease and lightly flour a 10x15" jellyroll pan. Pour batter into pan; sprinkle with chopped nuts. Bake for 15 minutes or until cake springs back when touched lightly in center. Generously sprinkle powdered sugar on clean kitchen towel. Turn cake onto towel. Starting at the narrow end, roll up cake and towel together. Cool.

Filling: Whip cream cheese and margarine. Beat in 1 cup powdered sugar and vanilla. Unroll cake and spread with filling. Roll up again (without the towel this time). Dust with powdered sugar as needed. Wrap in plastic wrap and chill.

Help on downloading recipes
Be sure to check the Cook'n Recipe Archive for more recipes.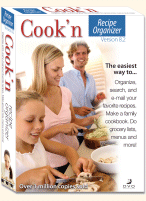 for Windows 9x/2000/ME/NT/XP/Vista

Not sure what to order?

Piles of recipe cards in your drawer?
Download Cook'n today and get organized!
Cook'n Cookbook Software Download - MSRP $99.95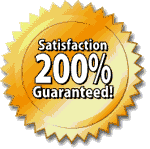 (Save 20%)
Download: $79.95

CD: $79.95



Buy the CD or download the full version of Cook'n right now! Includes over 300 of our best recipes.