Nonfat Granola
DVO Recipe Center
Serves: 5
5 cups quick oats
3/4 cup brown sugar
1/3 cup frozen apple juice concentrate
1/2 cup dry milk powder
1/3 cup honey
2 tablespoons cinnamon
1/2 teaspoon salt
1/2-1 cup dried fruits, chocolate chips, nuts, coconut, sesame seeds, as desired

Mix sugar, juice, dry milk and honey in saucepan, heat until sugar dissolves. Combine other dry ingredients in mixing bowl. Pour sugar mixture slowly over dry mixture and blend well. Place on cookie sheet and bake at 375° for 20-30 minutes, stirring every 10 minutes. Makes about 6 cups cereal. This recipe can be easily doubled.

*Stir in dried fruit after baking the granola to prevent it from drying up and getting hard. However, bake nuts, seeds, and coconut along with the granola to enhance their flavor.

Variation: Orange Granola: Replace the apple juice concentrate with orange juice concentrate and add 2 tsp. grated orange peel before baking the granola. Mix in dried pineapple, coconut, and chopped macadamias for a tropical treat.

Help on downloading recipes
Be sure to check the Cook'n Recipe Archive for more recipes.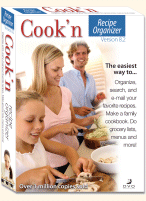 for Windows 9x/2000/ME/NT/XP/Vista

Not sure what to order?

Piles of recipe cards in your drawer?
Download Cook'n today and get organized!
Cook'n Cookbook Software Download - MSRP $99.95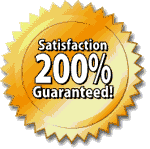 (Save 20%)
Download: $79.95

CD: $79.95



Buy the CD or download the full version of Cook'n right now! Includes over 300 of our best recipes.