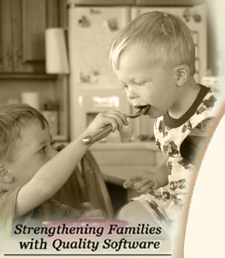 Cook'n Club Home
Subscribe Now!

Cook'n Forum
HomeCook'n Archive
Give-Aways

I have spent the last 2 hours reading your newsletter and wonderful recipes. I have already printed a whole bunch I want to try. I love them because they are using ingredients one has on hand. I love that and just wanted you to know how much we appreciate all your hard work in putting together this newsletter. Thank you very much.

Anna

Volume I - July 31, 2009
Irish Soda Breads
by Alice Osborne & Patty Liston


Here is a really fun twist on whole grain bread: Soda breads. They are hearty Irish staples – wholemeal flour with large flakes of bran and wheat germ, or white flour or a mixture leavened with baking soda and moistened with buttermilk. The acid in the buttermilk reacts with the baking soda, which is an alkali, creating bubbles of carbon dioxide which rise the bread.
Soda breads have the heft of a yeast bread but are made in minutes and the dough can be shaped into scones or a round loaf, depending on the occasion. Originally it would have been baked in a bastible (pot oven) over the open fire. And did you know there's even a society for the preservation of the tradition of Irish soda breads?
A Few Absolutes: Traditional Irish Soda Bread does not contain...

"zest", orange or any other kind


Irish Whiskey. (talk about stereotyping!!!)


Honey (substitute for sugar)


Sugar (see definition of "cake")


eggs (see definition of "cake")


Garlic (not common in English/Irish dishes)


Shortening (hydrogenated vegetable oil - Crisco introduced to the US in 1911. Not in the 19th century)


Heavy Cream (British term for whipping cream bu a little thicker. Not much chance irish peasants would be using this.)


Sour Cream (traditional in Eastern European dishes. Became popular in the US and European kitchens during the past 50 years, not 150 years ago.


Yogurt (prior to 1900 a staple in Central Europe and Asia. Introduced to the US after WWII by Isaac Carasso who started Dannon in NY City. Not a 19th century Irish baking item.)


Chocolate


Chiles/Jalapenos (Right! Ireland is well known for using these in its traditional food!! por favor!


Fruit (Only in Christmas/Easter cakes and other special occasions…and just about anything else one can think of.

All of the above ingredients can be found in "Irish soda bread" recipes somewhere on the web. Interesting, but definitely not Traditional Irish Soda Bread.

Soda bread was baked daily from simple ingredients. The Irish would not have added whiskey to their daily bread any more than a Frenchman would have added it to his baguette or a Jew to Matzo.

In America and other parts of the world we tend to forget that this is a basic "quick bread" served with meals and not a "dessert dish." Go to SodaBread.info for all kinds of REAL recipes and wonderful information and inspiration!

This recipe is courtesy of Eating Well, but the others are off the Soda Bread site:

Whole Wheat Irish Soda Bread
Yield: 12 slices



2 cups whole-wheat flour
2 cups all-purpose flour, plus more for dusting
1 teaspoon baking soda
1 teaspoon salt
2 1/4 cups buttermilk

Preheat oven to 450 °. Lightly coat a baking sheet with oil and sprinkle with a little flour. Whisk whole-wheat flour, all-purpose flour, baking soda and salt in a large bowl. Make a well in the center and pour in buttermilk.

Using one hand, stir in full circles (starting in the center of the bowl working toward the outside of the bowl) until all the flour is incorporated. The dough should be soft but not too wet and sticky. When it all comes together, in a matter of seconds, turn it out onto a well-floured surface. Clean dough off your hand.

Pat and roll the dough gently with floury hands, just enough to tidy it up and give it a round shape. Flip over and flatten slightly to about 2 inches. Transfer the loaf to the prepared baking sheet. Mark with a deep cross using a serrated knife and prick each of the four quadrants.

Bake the bread for 20 minutes. Reduce oven temperature to 400° and continue to bake until the loaf is brown on top and sounds hollow when tapped, 30 to 35 minutes more. Transfer the loaf to a wire rack and let cool for about 30 minutes.

Recipe Nutrition:
Per slice: 165 calories; 1 g fat (0 g saturated fat, 0g mono unsaturated fat); 2 mg cholesterol; 37 g carbohydrates; 8 g protein; 3 g fiber; 347 mg sodium; 179 mg potassium; 2 carbohydrate servings; exchanges: 2 starch. Nutrition Bonus: Fiber (13% daily value).



Download this recipe.
White Soda Bread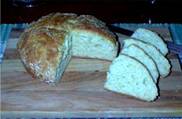 4 cups (16 oz) of all purpose flour.
1 Teaspoon baking soda
1 Teaspoon salt
14 oz of buttermilk
Preheat the oven to 425° F. Lightly crease and flour a cake pan. In a large bowl sieve and combine all the dry ingredients. Add the buttermilk to form a sticky dough. Place on floured surface and lightly knead (too much allows the gas to escape)
Shape into a round flat shape in a round cake pan and cut a cross in the top of the dough.Cover the pan with another pan and bake for 30 minutes (this simulates the bastible pot). Remove cover and bake for an additional 15 minutes. The bottom of the bread will have a hollow sound when tapped so show it is done. Cover the bread in a tea towel and lightly sprinkle water on the cloth to keep the bread moist.

Download this recipe.
Brown Bread
Slightly different from the first recipe above

4 cups Stone Ground Whole wheat flour
2 cups White flour
1 1/2 tsp Baking soda
1 1/2 tsp Salt
2 cups Buttermilk
Mix the whole wheat flour thoroughly with the white flour, salt, and baking soda.
Make a well in the center and gradually mix in the liquid. Stir with a wooden spoon. You may need less, or more liquid - it depends on the absorbent quality of the flour.
The dough should be soft but manageable. Knead the dough into a ball in the mixing bowl with your floured hands. Put on a lightly floured baking sheet and with the palm of your hand flatten out in a circle 1 1/2 inches thick.
With a knife dipped in flour, make a cross through the center of the bread so that it will easily break into quarters when it is baked. Bake at 425° for 25 minutes, reduce the heat to 350° and bake a further 15 minutes. If the crust seems too hard, wrap the baked bread in a damp tea cloth. Leave the loaf standing upright until it is cool. The bread should not be cut until it has set - about 6 hours after it comes out of the oven. (Personally, we can't wait 6 hours to eat fresh soda bread.)
---
Contribute to the Cook'n Club!
DVO would love to publish your article, prose, photography and art as well as your cooking, kitchen and nutrition tips, tricks and secrets. Visit the Newsletter Submission / Win Win for All section in our Forum for more information and details.
---
---