We really want to hammer home the importance of eating nutrient dense foods that help protect the immune system and keep us all healthy this winter. So we had to include one more article—on MUSHROOMS! Some people
think
they're nutritional nothings. But jazzing up pizza, soup, and sandwiches, etc. with mushrooms could mean a
big
something for your heart . . .
. . . and that "something" is clearer arteries. A potent antioxidant in mushrooms could help cut down on risky plaque buildup and help maintain overall health.
A Whole Lotta Ergo
Mushrooms may be
the
top source of ergothioneine. And in a lab study, the substance reigned supreme in inhibiting adhesion molecules -- the ones responsible for helping plaque-forming cells latch onto blood vessel walls. Ergothioneine is found in other foods, too, like wheat germ and chicken liver. But the amount in white button mushrooms is 4 to 12 times higher, and meaty portobello mushrooms have even more. (Suddenly hungry? Try this Rustic Mushroom Tart recipe. It's easier to assemble and better than pizza!)
Rustic Mushroom Tart
Courtesy, Eating Well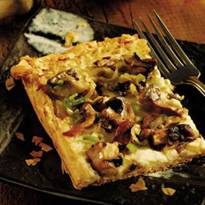 3/4 cup part-skim ricotta cheese
1/2 cup soft goat cheese (2 ounces)
2 teaspoons chopped fresh rosemary
Freshly ground pepper to taste
1 tablespoon butter
4 cups mixed wild mushrooms, coarsely chopped
1 large leek, white part only, halved lengthwise, thinly sliced and thoroughly washed
1/2 teaspoon salt
1/4 cup white wine
10 sheets (14x18-inch) or 20 sheets (9x14-inch) thawed phyllo dough (see Timing Tip)
1/4 cup extra-virgin olive oil
1/4 cup plain dry breadcrumbs
Combine ricotta, goat cheese, rosemary and pepper in a medium bowl. Set aside. Heat butter in a large skillet over medium-high heat. Add mushrooms, leek and salt and cook, stirring, until the leek starts to soften and the mushrooms release their juices, about 3 minutes. Pour in wine and simmer until the liquid has evaporated, about 2 minutes. Set aside.
Preheat oven to 400°F. Line a large baking sheet (approximately 12 by 17 inches) with parchment paper. Lay one large sheet of phyllo on the prepared pan. (If using the smaller size, slightly overlap two sheets to form a rectangle.) Keep the remaining phyllo covered with plastic wrap or wax paper and a damp kitchen towel.
Lightly coat the phyllo with oil using a pastry brush. Sprinkle with 1 teaspoon breadcrumbs. Repeat this step, layering the remaining phyllo on top. Carefully roll about 3/4 inch of each side toward the center to form the outer rim of the tart.
Spread the reserved cheese mixture evenly over the phyllo. Top with the reserved mushroom mixture. Bake the tart until the crust is brown and crispy, 25 to 30 minutes. Let cool in the pan on a wire rack for 5 minutes. To serve, lift the parchment paper and slide the tart onto a cutting board or large platter. Serve warm.
Nutrition Information:
Per serving: 234 calories; 9 g fat (3 g sat, 4 g mono); 10 mg cholesterol; 29 g carbohydrate; 7 g protein; 1 g fiber; 364 mg sodium; 117 mg potassium.
2 Carbohydrate Servings. Exchanges: 1 1/2 starch, 1 vegetable, 1 1/2 fat
TIP: Timing Tip: Thaw frozen phyllo (in its package) at room temperature for 2 hours or in the refrigerator for at least 8 hours or overnight before preparing the recipe.

Download this recipe.
Slow Cooker Black Bean & Mushroom Chili
Courtesy, Eating Well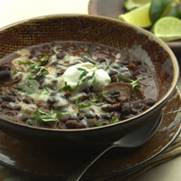 1 pound dried black beans (2 1/2 cups), picked over and rinsed
1 tablespoon extra-virgin olive oil
1/4 cup mustard seeds
2 tablespoons chili powder
1 1/2 teaspoons cumin seeds or ground cumin
1/2 teaspoon cardamom seeds or ground cardamom
2 medium onions, coarsely chopped
1 pound mushrooms, wiped clean, trimmed and sliced (4 1/2 cups)
8 ounces tomatillos, husked, rinsed and coarsely chopped
1/4 cup water
5 1/2 cups mushroom broth or vegetable broth, homemade or canned
1 6-ounce can tomato paste
1-2 tablespoons minced canned chipotle peppers in adobo sauce
1 1/4 cups grated Monterey Jack or pepper Jack cheese
1/2 cup reduced-fat sour cream
1/2 cup chopped fresh cilantro
2 limes, cut into wedges
Soak beans overnight in 2 quarts water. (Alternatively, place beans and 2 quarts water in a large pot. Bring to a boil. Boil for 2 minutes. Remove from heat and let stand for 1 hour.) Drain beans, discarding soaking liquid.
Meanwhile, combine oil, mustard seeds, chili powder, cumin and cardamom in a 5- to 6-quart Dutch oven. Place over high heat and stir until the spices sizzle, about 30 seconds. Add onions, mushrooms, tomatillos and 1/4 cup water. Cover and cook, stirring occasionally, until vegetables are juicy, 5 to 7 minutes. Uncover and stir often until the juices evaporate and the vegetables are lightly browned, 10 to 15 minutes. Add broth, tomato paste and chipotles (with sauce); mix well.
Place the beans in a 5- to 6-quart slow cooker. Pour the hot mixture over the beans. Turn heat to high. Put the lid on and cook until the beans are creamy to bite, 5 to 8 hours. To serve, ladle the chili into bowls. Garnish each serving with cheese, a dollop of sour cream and a sprinkling of cilantro. Pass lime wedges at the table.
Stovetop method: Total: 4 1/2 hours
In Step 2, increase broth to 8 1/2 cups. Omit Step 3. Add the beans to the Dutch oven; cover and simmer the chili gently over low heat, stirring occasionally, until beans are creamy to bite, about 3 hours.
Nutrition Information:
Per serving: 310 calories; 10 g fat (4 g sat, 2 g mono); 20 mg cholesterol; 40 g carbohydrate; 18 g protein; 13 g fiber; 414 mg sodium; 745 mg potassium.
Nutrition bonus: Fiber (53% daily value), Folate (47% dv), Potassium (37% dv), Iron (25% dv). 2 Carbohydrate Servings
TIP: Popular in Mexican cooking, the tomatillo looks like a small green tomato with a papery husk.
Chipotle peppers are smoked jalapenos with a fiery taste, canned in adobo sauce. Mushroom broth can be found in the natural-foods section of large supermarkets and in natural-foods stores.
MAKE AHEAD TIP: Cover and refrigerate for up to 2 days or freeze for up to 3 months. Thaw in the refrigerator, if necessary, and reheat on the stovetop or in a microwave.

Download this recipe.
Cancer Prevention, Too?
White button mushrooms may also have cancer-fighting powers. In animal studies, powdered white mushrooms ramped up production of natural killer cells that help protect against tumors. One more idea: add them to omlettes, salads and lasagna.
---
Contribute to the Cook'n Club!
DVO would love to publish your article, prose, photography and art as well as your cooking, kitchen and nutrition tips, tricks and secrets. Visit the Newsletter Submission / Win Win for All section in our Forum for more information and details.
---
---