Alice just returned from a 2-week vacation. Along with accumulating great memories, she accumulated almost 10 extra pounds! All the result of overindulging in junk food!
Fortunately, there are some simple steps to dropping what was so easily picked up. If you ever find yourself in the same boat, try these small changes—they can equal some astonishing results:
Halve-it:
This is simple science. Portion control is one of the best ways to shed weight quickly. Do not change what you eat (unless you're still eating junk); just eat exactly half of what you would normally eat for lunch and dinner. For breakfast, eat a full, but well-balanced meal before 9:30am, to ensure that you can burn it all off.

Practice the Cinderella-Carb Rule:
Avoid eating carbs after 12:00pm (noon). Increase the amount of vegetables and proteins for lunch and dinner. You can keep the pancakes; just make sure they're in the morning. This will ensure you have enough energy throughout the day but also gain the benefits of losing weight.

Make better choices:
OK, fried chicken is finger-licking good, but so is a baked chicken breast and it has fewer calories. Eat the foods you like, but eat them from healthier cooking methods. Steamed, baked, poached and pan-seared are all better methods than fried (and remember to halve it). Also, substituting whole milk to skim milk in your cups of coffee can shave off hundreds of calories.

Snack Switch:
If you sneak snacks, replace candies and pastries with pieces of fruit or nut butters (almond or peanut butter).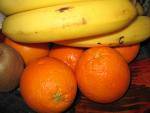 Eat Fruits and Veggies:
Oranges, bananas contain the sugar your body wants, but it also has vitamins and nutrients and no empty calories. Even better are some vegetables which are tasty and filling like cucumbers and carrots.

Drink Water:
It fills your stomach and is a great trick to getting rid of hunger pains.

Take the Long Way:
Find ways to increase your walking. Park in the furthest place possible at your work parking lot and walk. When you have breaks, walk somewhere, any where. Take stairs when you can. For lunch, go to a mall, eat your meal at the food court and spend twenty minutes walking. No need to sweat...just walk. These tiny expenditures of calories are like ATM fees, they eventually add up—but this time in our favor!

Sweat It Out:
If you belong to a gym, use the steam room and sauna. Sweating burns an amazing amount of calories and keeps metabolism in fifth gear long after. The other perk is that sweating is great for the skin.

The promise is that if I practice these tips for two weeks, I should be able to shed those 10 pounds. I'll report back, and if anyone would like to join me in this adventure, let me know. That's the other trick: have a support system!
(All information courtesy of Michael Murray, the Alkaline Diet Guy.)
---
(If YOU have a smart idea, won't you share it? Life is so much easier and we accomplish so much more when we pool our resources. And after all, we're all in this together. So email
patty@dvo.com
or
alice@dvo.com
with YOUR Smart Ideas!)
---
Contribute to the Cook'n Club!
DVO would love to publish your article, prose, photography and art as well as your cooking, kitchen and nutrition tips, tricks and secrets. Visit the Newsletter Submission / Win Win for All section in our Forum for more information and details.
---