As you know, at Cook'n Club, we're not just interested in great-tasting food, we're also interested in food that's great for you. And a food that's really a champion for good health as well good taste is GARLIC. So in this newsletter and next, we want to share garlic information and some terrific garlic recipes.
How Garlic Works: Learning how it works and the science behind it will make you a better cook:

Have you ever wondered why garlic can sit on your counter for days and not smell up the kitchen? That is so because an uncut head of garlic has almost no odor. It is not until you cut the garlic that you smell that pungent aroma. Why is that?
Raw garlic contains two chemical compounds, allin and allinase. Neither alone smells of garlic but let them come in contact with each other and they form a third compound, allicin, which creates the pungent flavor of garlic. So when you cut your garlic, allowing the two compounds to come in contact with each other, it smells.
How you cut your garlic--whether you slice it, chop it, or mince it—determines the strength of the flavor since it mingles these two compounds in different ways. If you slice the garlic, it will be less strong. If you finely mince it, it will be much stronger. For the strongest, smoothest flavors, mince your garlic until it is almost paste-like.
A press is perfect for this. Not only does mincing your garlic with a garlic press intermingle these two compounds well, finely minced garlic also has the advantage of being evenly dispersed throughout the dish.
How to Create a Mellow Garlic Flavor without Harshness:
Garlic is a wonderful, fundamental flavor for many dishes. It can be rich and sweet, almost nut-like, with no bitterness, or it can also be pungent and strong, almost an overpowering flavor that lasts for days.
Roasting garlic eliminates the powerful, harsh tones in garlic flavors and creates rich, sweet, nutty tones. That's because heat destroys the powerful enzyme in garlic, alliinase, and alliinase combined with alliin is what causes the harshness in garlic.
So to eliminate the harshness of garlic, simply roast the garlic heads in a garlic baker (see example) with only the tops cut off. Conversely, if you want a strong, pungent garlic flavor mince your garlic before cooking.
Here's a typical garlic baker that can be found in any kitchen specialty shop. They run between $8 to $10.00. Look for one with an unglazed dome, which makes for hotter temperatures. A glazed base makes for shorter baking times and retains juices. This is really a worthwhile addition to your kitchen gear.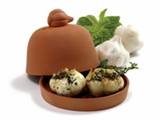 A glazed base makes cleaning easier.

Can use in a conventional or microwave oven.

Should hold up to 3 garlic bulbs.

Can use for baking apples and onions also.

Most have recipe and instructions included.




Here's a typical garlic press that can also be found in any kitchen specialty shop, and it makes mincing garlic so easy. You want a heavy duty press—one that will last a lifetime—built with stainless steel and has comfy handles. If it's on the larger side, the pressing will be easier, so compare brands.
Garlic Mashed Potatoes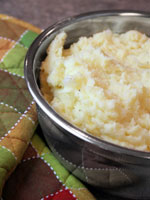 Garlic mashed potatoes can be made many different ways—with red potatoes, with skins on, and with or without cheese.
To make one of our favorite versions, start with four to five pounds of potatoes. Beat in four cloves roasted garlic, one cup milk, 2/3 cup grated cheese, and 2 tablespoons butter. Serve hot.