Don't those flies and wasps make you nuts, the way they buzz around and constantly try to sit on the foods at your outdoor meal? You can spend more time batting the bugs than you do actually eating. Well, here are some answers to this pesky problem:
You can buy umbrella type food nets at kitchen specialty stores but they're hard to find and for some reason never seem to be weighted. This makes them almost useless if there's any wind blowing. You'll spend as much time trying to keep them in place or chasing them down as you would of just fanning away the bugs! I've got to admit though, they are good for something. On one outing we ate in the vicinity of some very cute and interesting lizards. Try as they may my kids couldn't catch a one. Until one of them came up with the idea of using the food nets to drop down over the top of them!
My grandmother was with us on this outing and commented that she used to go to the thrift store and buy inexpensive, large wire mesh colanders (Walmart, Target, Big-K etc., are also good sources). What a great idea! Place one over each serving dish on the table. They're heavy enough that if a breeze comes up, they don't blow away.
Another excellent solution comes from Australia; weighted and elasticized food nets in various sizes. We haven't been able to find them anywhere except for online at www.no-flies-net.com. The advantage over the wire mesh colanders is that they take up hardly any space in your food kit because you can roll or squash them up and stash them almost anywhere. The disadvantage is they are a bit pricey.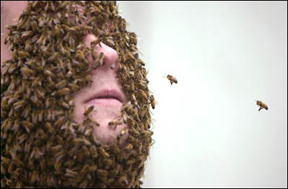 ...but man, I hate it when this happens!
By using one or more of the tips above you can enjoy any meal outdoors, and show the bugs who's boss at the same time!
Bon apetite!