We were just finishing up dinner at a local Chinese restaurant when my daughter excitedly blurts out, "When I grofp up..I, I want to beef a...phumf........writer!"
That's great honey, don't talk with your mouth full (she's eating my fortune cookie) and please keep your elbows off of the table (I still don't know why but that was a rule of dinner time etiquette when I grew up).
"I want to be a Chinese writer," she says. "I want to write fortunes!"
So here we go. After spending a few quality hours on the internet researching what one has to do to become an actual Chinese writer of fortunes we offer up the following. Oh, by the way, number one and two formulas for writing fortunes: Don't get too intellectual and think in 10 word sentences.
If you are 12 yrs. older beware of odd smells.
Your rubber bands are heading in the right direction.
You will soon be aware of your growing awareness.
You never know who, what touches.
Do not follow the instructions of this fortune.
Your eyes will soon be sparking, keep one open.
She who seeks to be equal to men lacks ambition. Don't touch that.
Behind an able man there are always.
Never wear your best pants to your fight for freedom.
Warning: Dates on calendar are closer than they appear.
It's time to make circles with mints. Do not haste any longer!
A fool and his money is like a fool and his money.
If the truth is out there, why are we in here?
---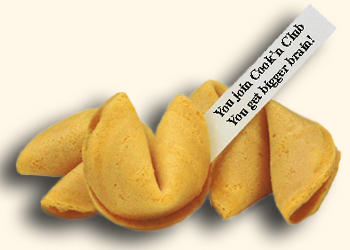 Fortune Cookies

Download this recipe.
TIPS:
Make only two or three cookies at a time, because the cookies become stiff very quickly and when cooled are too brittle to bend into their familiar shape.
To form into the crescent shape, have a thin-edged bowl or pan on hand, along with a muffin pan.
To handle the hot cookies, wear white, cotton gloves.
After the cookies have cooled you can dip them in chocolate, light or dark and sprinkle them with cake decorating confections. The only limit to how you can dress them up is your own imagination! You can also add food coloring to your recipe and bake up a batch of multi-colored treats.
Fortune cookies are great for dinner parties, birthdays and weddings. A clever way to use them is to put instructions in them and use them to divy up the after dinner chores such as clearing the table, washing and drying the dishes and emptying the trash. The trading of cookies before they are cracked open can often become quite amusing!
Preheat the oven to 300F.
Ingredients:
8 oz . flour
2 tablespoons cornstarch
4 ounces sugar
1/2 teaspoons salt
2 egg whites
4 ounces vegetable oil
1 teaspoon water
2 teaspoons vanilla extract
Directions:
In a large bowl, Sift together the flour, cornstarch, sugar, and salt. Stir in the oil, egg whites, water, and vanilla. On a well-greased baking sheet, roll a very thin 4-inch circle of dough and bake for 15 minutes or until golden.
Remove one cookie at a time from the oven with a wide spatula; working quickly follow these four steps:
1. Flip cookie onto cotton gloved hand.
2. Hold fortune in center of pliable cookie while folding cookie in half.
3. Grasp ends of cookie and draw gently down over edge of muffin pan to crease at center of cookie.
4. Fit cookie in muffin pan (points down) to hold shape as it cools. If cookie hardens too quickly, put it back in the oven for ;about 1 minute.
Store in airtight container.

---
Contribute to the Cook'n Club!
DVO would love to publish your article, prose, photography and art as well as your cooking, kitchen and nutrition tips, tricks and secrets. Visit the Newsletter Submission / Win Win for All section in our Forum for more information and details.