Halloween is a perfect time for some spooky family fun in the kitchen. Here are a few ideas that will make for a disgustingly scrumptious Halloween party or an eerie dinner at home. The little ghouls and goblins will gobble up this yucky stuff!
This quick and filling Halloween dinner is sure to make your tummy squirm.
Barbeque Worm Sandwich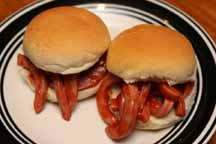 6 Hot Dogs
˝ cup barbeque sauce
4 hamburger buns
Slice each hot dog in half and then quarter each piece lengthwise.
In a skillet, fry the hotdog pieces until they curl and are lightly browned. Add barbeque sauce and coat the hotdogs.
Heat for two more minutes, scoop 'worms' onto buns and serve warm.
Serves 4
There are always plenty of willing hands and mouths to help Mummy in the kitchen with this warm and saucy snack.
Mini-Mummy Pizzas
4 English muffins
˝ cup pizza sauce
black olives, sliced
scallions
red or green bell peppers
Mozzarella cheese sticks
Heat oven to 350 degrees F.
Spread a tablespoon of pizza sauce on each half of the English muffins. Set olive slices in place for eyes and add round slices of green onion or bits of red or green bell pepper for pupils.
Pull apart strips of string cheese and lay across the muffin for mummy wrappings (this is where the little ones love to help out most).
Bake until cheese is melted and muffin is toasted, about 10 minutes.
Serves 4
Nothing says 'BOO' for breakfast like a toasted Halloween Ghost! This is a great chance for little ones to get involved in the kitchen. They love to use their own butter knife to spread the whipped cream cheese. And add the raisins to make ghost faces.
Toasty Ghosty
White bread (1 slice per ghost)
Whipped cream cheese
Raisins or currants
For each ghost, toast a slice of white bread. Cut out a ghost shape from the slice of toast freehand or use a gingerbread girl cookie cutter.
When the cutouts have cooled, spread on a generous coating of whipped cream cheese
For eyes and mouths, add raisins.
Happy Trick or Treating!
---
Join the Cook'n Club!An unbeatable value with exclusive benefits for members only.
Enjoy articles like this and many other benefits when you join the Cook'n Club.
---