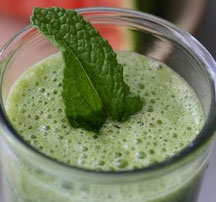 Just because itís green doesnít mean it isnít good. Green drinks are worthy of a try. If you havenít tried green drinks, you are probably associating them with either the strength of Popeye or something slimy.
One thing is for sure, they are good for you and by adding fruits and vegetables together you take away much of the vegetable flavor. For instance, I donít like the taste of wheat grass but put it with some pineapple or orange juice and it tastes great! I personally love these green drinks and most people who want to be healthy are willing to give greens a try. Greens are loaded with nutrients.
It is important to remember that our bodies need five servings of fruits and vegetables everyday. Thatís not five of each; it is a total of five. If you love fruit, it might be easy to eat five fruits a day, but you need to balance them out with vegetables so you get all the nutrition your body requires.
These green drinks, after a short period of time, will make your body feel super great! If you are a beginner at juicing, I suggest that you add more fruits to the green drink to make them sweeter. You may also want to start by drinking a little at a time so your body doesnít over react to the change.
It is also a help to share this juicing experience with a friend who lives close by or someone you see on a regular basis, so you arenít overwhelmed and you wonít waste what you canít drink. You will soon come up with your own favorite recipes by tailoring these drinks to fit your needs and tastes.
Having someone enjoying getting healthier with you is not only motivating but it also allows you to try more variations. You can keep the drinks in the refrigerator for three or four days. If your juice thickens as it sits in the refrigerator just add more fruit juice or a little water to it. Carrot juice is the exception; it should be drunk in the first two days. Carrot juice will emit a gas if not drank in a timely manner that could make you sick.
Collard greens are rich in calcium and loaded with Vitamins A and C. Collard greens are extremely good for you.
Green Cabbage is loaded with Vitamin K, bone health Fiber (insoluble), promotes healthy gastrointestinal tract, and an excellent source for weight maintenance. Cabbage is also very low in saturated fat and cholesterol.
Spinach is high in Vitamin A, and is a good source of calcium, iron, magnesium, riboflavin, and Vitamins B-6 and C. The plant compounds in spinach may boost your immune system.
Kale is considered to be a highly nutritious vegetable with powerful antioxidant properties and is anti-inflammatory. It is actually from the cabbage family. It is high in:
Beta carotene: powerful immune booster and antioxidant

Vitamin C: another powerful immune booster and antioxidant

Lutein: an antioxidant that can help lower your risk of developing cataracts and macular degeneration and lowers the risk of cardiovascular diseases

Zeaxanthin: another antioxidant that helps protect your eyes from ultraviolet damage.

Calcium

Green Drink 1

3 cups of juice (orange or pineapple)
16 ounce bag of baby spinach
1 banana
2 Tablespoons Cod Liver Oil (Orange flavor)
1 handful sprout

Blend together.

Green Drink 2

3 cups apple juice
1 large avocado
2 large bananas
1 Tablespoon flax seed meal
10 ounces spinach or 3 kale leaves

Beat at high speed for 3 minutes or until everything is smooth and well incorporated.

Dr. Oz Green Drink

2 apples cored
2 large handfuls of spinach
1 celery stock
Ĺ cup chopped parsley
1 thumbnail of fresh ginger (peeled)
1 lemon (juice only)
1 medium cucumber

Place ingredients in a blender, add 4 ounces of spring water or a handful of ice cubes, then, puree quickly for one minute. Optional ingredients:

Another cucumber
Raw carrot
Unsweetened fruit juice
Banana







---
If you have any additional tips that you'd like to add, please post them on the
Cook'n Club Forum
(if you're a
Cook'n Club Member
)...or e-mail them to
Dan@dvo.com
.
---
Join the Cook'n Club!An unbeatable value with exclusive benefits for members only.
Enjoy articles like this and many other benefits when you join the Cook'n Club.