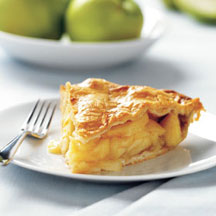 My mother-in-law gave me very little advice when I was first married. But, one bit of counsel that she did give me seemed a little strange at the time. She said "Never tell your husband bad news on an empty stomach!"
As funny as it may seem, it has worked well for my husband. In fact, it pretty much works that way with the whole family, male or female. Even I've been accused of being cranky when I'm hungry!
I know it is not healthy to console one's self with food but, in moderation, some foods can cheer you up a bit. Although comfort foods vary from person to person, there seems to be consensus on some dishes, one of them being apple pie. There is something about coming home to the smell of apple pie straight from the oven, with a golden crust, bubbling over with fruit, cinnamon and sugar.
It's a good idea to have several dishes to choose from to accomplish this pacifying affect. The last thing you want to do is to start associating apple pie with trauma! And, the fact of the matter is... some problems are just bigger than apple pie. Sometimes it's just nice to have pie, just because. But for a little stress relief, try a slice of warm "Domestic Bliss Apple Pie." If you wrecked the car, you might want to add a scoop of ice cream.
Domestic Bliss Apple Pie
9 baking apples (I like to mix them so I use Granny Smith and Jonathan together.)
3/4 cup sugar (for more of a Carmel flavor use brown sugar)
¼ cup of all purpose flour
1½ Teaspoon cinnamon
½ Teaspoon nutmeg
¼ Teaspoon salt
3 Tablespoons butter
Preheat the oven to 400 degrees.
Using a large bowl – peel, core and slice the apples. In a medium bowl, with your hands, mix the dry ingredients; flour, sugar, nutmeg and cinnamon. Add the dry ingredients to the apples and toss with your hands until the apples are nicely coated. Place the mixture in a pastry-lined 9 inch pie pan. Dot the top of the apples with butter. Add the top crust and vent the pie crust top making a few slits with a knife. You might think you have too many apples in the pie, don't worry they cook down.
When you are ready to bake the pie, turn the oven temperature down to 350 degrees and bake for 50 -60 minutes. I cook the pie at a lower temperature than most people do. I feel that it works just as well and I don't burn the edge of the crust. You can make a tin foil ring to go over the edge of your pie crust if it is browning too quickly.
And, sometimes instead of a top crust I use a strudel mix on top.
Strudel Topping for Apple Pie
1 cup brown sugar
1 cup all purpose flour
¼ cup cold butter
In a medium bowl; mix flour, sugar and small slices of cold butter. Rub the mixture with your palms and fingers of your hand until the consistency of the mixture is like coarse corn meal. Spread evenly on top of your pie before baking.
Flakey, Buttery Pie Crust
The butter flavor shortening really makes the difference in this pie crust. Not only does it have a buttery taste, it also has a beautiful golden color. Using ice water and not over mixing are also very important. This is a never fail pie crust!
4 cups all purpose flour
1 ¾ cup butter flavored shortening
1 Tablespoon sugar
2 Teaspoons salt
1 egg
1 Tablespoon vinegar
½ cup ice water
Mix the dry ingredients with the shortening by rubbing with your palms and fingers until it looks like course cornmeal.
In a small bowl, add vinegar, egg and ½ cup of ice water. Whisk with fork and add to dry ingredients. At this point, the less you handle the dough the better. Mix with fork and then gather together into a ball with your hands. I cover the dough with plastic wrap and let set in the refrigerator for about 20 minutes to make it is even easier to roll. This recipe will make 2 double crusted pies.
It appears from my neighbor's tree that we might have a bumper crop of apples this year. After I make pie, bottle some apple sauce, and pie filling I will still be looking for ways to "use all them apples."
Easy Bake Cinnamon Apples
6 large baking apples
Red Hot cinnamon candies
Half & Half
Take the unpeeled apples, and core them to leave a nice opening in the center. Fill the centers with cinnamon candies. Bake in a glass 9x13 inch pan sprayed with non-stick spray at 350 degrees for about 60 minutes or until the apples are soft. Serve warm in bowls with Half and Half or a little cream. Grandma made this every fall.
German Apple Cake
Serves 18
This is a dense cake and a small piece goes a long way. I know the sugar content is high but it's a very old recipe and has an old fashion homemade taste. I am not sure how to cut down the sugar on this one. Sometimes I just don't like to mess with a good thing.
4 peeled and chopped apples
3 large eggs
2 cups all purpose flour
2 cups sugar
½ Teaspoon salt
2 Teaspoons cinnamon
1 Teaspoon baking soda
1 cup oil
2 Teaspoons vanilla
Mix the dry ingredients together. Add the liquid ingredients, one at a time, stirring by hand or with heavy duty stand mixer. This batter is very thick and can be baked in a greased and floured Bundt pan or a 9x13 inch pan. Bake at 350 degrees for about 45 minutes. When cool sprinkle with powdered sugar.
Apple Slaw
Serves 8
2 apples (1 red and 1 green)
2 cups shredded cabbage
2 cups diced celery
3 Teaspoons lemon juice
½ teaspoon salt
2 Teaspoons sugar
1/2 cup mayonnaise
½ cup plain yogurt
In a large bowl, add shredded cabbage, diced celery and apples. In a small bowl, mix together the mayonnaise, yogurt, sugar, and salt. Pour over apple slaw and mix with spoon to incorporate.
---
* DVO welcomes your kitchen hints and cooking or nutrition questions! Email us and we'll post your hints and Q/A's in upcoming newsletters! *