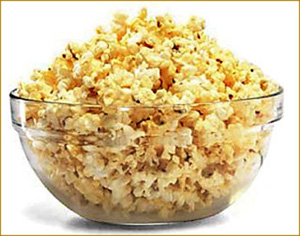 Did you know that the average American consumes about 60 quarts of popcorn a year? And, did you know that popcorn, on average, costs only about 25 cents per quart? That makes popcorn a very economical treat!
Popcorn is also a great treat for the health conscience person. Popcorn is healthy carbohydrate, containing some B vitamins such as Panothenic acid which is B5. It also provides potassium, magnesium, zinc and many essential amino acids, fiber and protein. Popcorn is relatively low in calories varying from product to product.
Some microwaveable popcorn's are only 100 calories for 5 cups. Popcorn can be an immense help for those of you who are watching your weight and need a little something to munch on. In which case, you might want to save the recipes below for a special occasion.
I have a hard time walking by a fancy bag of gourmet popcorn but I am not a fan of how expensive they can be. I solved that problem by experimenting at home. These tips below are helpful no matter what recipe you use.
1.
After popping the popcorn and placing it in a bowl, shake down the kernels that did not pop. The un-popped kernels will remain in the bottom of the bowl so they can be easily removed. Spread the popped popcorn on a cookie sheet in the oven pre-heated to 200 degrees, this will keep the popcorn warm while you make the topping. Warm popcorn allows the coating to stick more effectively. Do this step whether you are using wet or dry ingredients to coat the popcorn.
2.
If you are using a dry seasoning to coat your popcorn, spray the popcorn with a quick spray of butter flavored non stick spray. Then put the popcorn and dry seasoning in a paper bag and shake until coated. Return to bowl and enjoy! Try Parmesan cheese, garlic salt, or any seasoning or spices that you think you might like.
These recipes will definitely pump up the calorie content, but you still get the benefits that the popcorn affords you.
Peanut Butter Popcorn
12 cups popcorn
1 cup sugar
1 cup peanut butter
1 cup corn syrup
In a sauce pan over medium heat, bring the white sugar and corn syrup to boil for 2 minutes. Remove from heat and add the peanut butter.
Jell-O Popcorn
12 cups popcorn
1 (3.9 ounce) package gelatin (any flavor)
1 cup butter
1 Tablespoon corn syrup
3 Tablespoons water
Pre-heat oven to 300 degrees. Spray a cookie sheet with butter-flavored spray. Spread the popcorn evenly on cookie sheet and place in oven to keep warm.
In a sauce pan over medium heat, combine butter, sugar, gelatin and water. Cook for about 3 minutes until a small amount of syrup forms a ball when dropped into a cup of cold water.
Drizzle the syrup over the popcorn and return to the oven for about 10 minutes stirring twice.
Turn the hot popcorn onto a large piece of foil. Cool and break into clusters.
Easy Jell-O Popcorn
2/3 cups popcorn (un-popped)
¼ cups corn syrup
½ Teaspoon soda
½ cup of margarine (melted)
1-3.9 ounce package flavored gelatin
Pop popcorn, place in bowl and shake down the un-popped kernels. Place in brown paper grocery bag. In a microwavable bowl, cook the margarine, Jell-O and corn syrup in the microwave for 2 minutes. Stir in soda, mix well. Pour over popcorn in bag. Shake to coat. Place bag in microwave, cook another 4 minutes.
Shake bag after every minute
. Pour onto cookie sheet to cool.
This is fun to do with the seasonal colors (grape and orange – Halloween, cherry and lime for Christmas, etc.).
Cinnamon Popcorn
10 cups popcorn
2 Tablespoons corn syrup
½ cup of butter
2 (2.25 ounce) packages of Red Hots (Cinnamon candy)
Place popcorn on a cookie sheet that has been sprayed with butter-flavored, non-stick spray. Place in oven at 200 degrees to keep warm while making the topping.
On low heat in a medium sauce pan, add all the ingredients and stir constantly until the red hots have melted and all ingredients have been incorporated. Pour hot syrup over popped corn and shake in a paper bag. Return to bowl and enjoy!
Caramel Corn
10 cups popcorn
½ cup of butter
1 pound can peanuts (optional)
¼ cup corn syrup
1 cup tightly packed brown sugar
1 Teaspoon vanilla
½ Teaspoon soda
In a large sauce pan, add the butter, corn syrup and brown sugar. Bring the mixture to a boil, stirring constantly. Boil for 2 minutes. Remove pan from heat and add the baking soda and vanilla (the mixture will foam up). Pour the hot caramel mixture over the popcorn and peanuts, mixing with a well buttered, large, wooden spoon. Spread the popcorn on a cookie sheet that has been sprayed with butter-flavored, non-stick spray. Bake at 250 degrees for 30 minutes stirring the mixture 2 or 3 times.
Super Easy Carmel Popcorn
½ cup butter
¼ cup brown sugar
7 large marshmallows
Pop one bag of microwave popcorn. Place in a large bowl. In a microwavable bowl, add the butter, brown sugar, and marshmallows. Microwave for 1 to 2 minutes. Stir well and pour over popcorn, stir to coat.
---
If you have any additional tips that you'd like to add, please post them on the
Cook'n Club Forum
(if you're a
Cook'n Club Member
)...or e-mail them to
Dan@dvo.com
.
---
Join the Cook'n Club!An unbeatable value with exclusive benefits for members only.
Enjoy articles like this and many other benefits when you join the Cook'n Club.