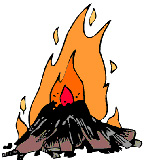 Laughing and singing around the fire is the highlight of every campout. These fun campfire snacks will keep campers gathered 'round telling ghost stories all night long.
Egg on a Stick
1 egg
1 bamboo skewer
Salt and pepper
Soak bamboo skewer in the water at the bottom of the cooler before using it over the fire.
Use a sharp knife to chip a hole at each end of the egg until the holes are large enough for the stick to pass through.
Place the stick through the egg and hold it closely over the fire. Turn occasionally until the egg will no longer spin on the stick.
Cool, peel, salt and pepper and eat.
Upside-down Nachos
2 Cups Grated Cheese
1 Bag Tortilla Chips
1 Jar Salsa
1/2 Chopped Onion
Chopped Jalapenos to taste
Sour Cream
On Reynolds Wrap Release Foil, place a layer of grated cheese, onions, jalapenos, then salsa and finally a mound of chips. Fold over the foil and grill on the fire for a minute or two until you hear the cheese sizzling. Remove from heat and open the pouch, place a plate upside-down on top of the chips and flip the whole thing over onto the plate. Top with sour cream and enjoy!
Note: Using Reynolds Wrap Release Foil eliminates the need for cooking spray.
Hobo Sack Popcorn
4 tablespoons oil
4 tablespoons popcorn kernels
4-12" squares of Heavy Duty Aluminum Foil
4 tablespoons melted butter
salt to taste
Place 1 tablespoon of oil and 1 tablespoon of unpopped kernels in the center of each foil square. Fold up foil leaving plenty of popping space. Use wire or string to tightly attach foil pouch to a stick. Hold over hot coals or grill.
Once popcorn begins to pop, immediately start shaking the pouch over the fire. When the popping stops, open carefully, salt and eat right from the pouch.
Happy Camping!
BONUS:
Visit this link for a
Dutch Oven No-Knead Bread Recipe
, so easy the kids can do it!
---
* DVO welcomes your kitchen hints and cooking or nutrition questions! Email us and we'll post your hints and Q/A's in upcoming newsletters! *