While the nice breeze and calm sounds may sound like Heaven to you and I, the kids may need a little help staying occupied and entertained while you are enjoying nature.
Here are a few ideas for keeping them happy and giving yourself some time to unwind.
Stick Figures
- Gather sticks (that are on the ground, no breaking them off the trees!) and make a sculpture or log cabin

Paint Rocks
- Find and clean off a small rock. Paint or color the rock anyway you want, after all, its your pet rock and your memory!
Start a collection
– Shells, rocks, leaves, pressed flowers. Just remember not to pick living things/
Play Dough Fun
- Just plop it down on the picnic table, go about your set-up, cooking or socializing and the kids will have a blast.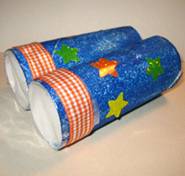 I Spy
- Make binoculars out of old toilet paper or paper towel rolls. For binoculars, just glue them (or rubber band them) together. Poke a whole in each tube end and tie a string to them to make the strap. You can use the paper towel rolls to do the same, or make a telescope.
Click!
Pack a disposable camera and let the kids do a photo-safari. When you get home, have the film developed and let the kids make a scrapbook or poster for their room.
Banner Art
- If you have an old bed sheet, bring it along and make a family flag/banner for your campsite. The kids can draw whatever they like. Then hang the flag/banner from a tree. This also makes it quite easy for the little ones (and some grown-ups) to find their campsite.
Doodle It
– Cover the picnic table with craft paper and while the kids wait for the great food they can stay occupied doodling on the paper. By the end of the trip there will be some fun memories on that paper. You might even cut some doodles out and scrap them once you get home!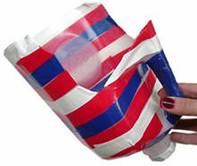 Build a Ball Catcher
– Using clean milk gallons, scissors, electrical tape, and markers transform garbage into fun ball catchers. Don't forget to bring a ball to play catch with!
Bling
– Take some beads and some string and let the kids make necklaces, bracelets, or keychains around the table or campfire.

There are a million inexpensive craft ideas available at local dollar and craft stores. The kids love to create and it will give everybody on your camping trip a great chance to enjoy, laugh, and build memories this summer.
---
Join the Cook'n Club!An unbeatable value with exclusive benefits for members only.
Enjoy articles like this and many other benefits when you join the Cook'n Club.