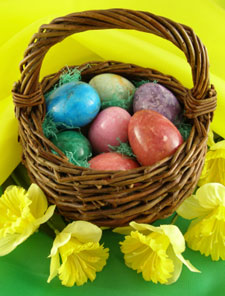 Did the Easter Bunny leave you with extra eggs? These inventive egg salad recipes will transform those leftover Easter Eggs into delightful dishes.
Smoked Salmon Egg Salad
12 hard-boiled eggs, peeled and chopped
2 stalks celery, chopped
1 red onion, chopped
5 ounces diced smoked salmon
1 cup mayonnaise
3 tablespoons chopped fresh dill
salt and pepper to taste
In a medium bowl, combine eggs, celery, onion, smoked salmon and mayonnaise. Season with dill, salt and pepper. Refrigerate at least two hours. Serve with crackers or on toasted wheat bread.
Bird Nest Salad
1 egg
3 cups chow mein noodles
¼ teaspoon garlic salt
6 hard-boiled eggs, chopped
1/3 cup mayonnaise
1/3 cup chopped celery
2 tablespoons finely chopped onion
2 tablespoons minced fresh parsley
1 ½ tablespoons ground mustard
½ teaspoon lemon juice
¼ teaspoon seasoned salt
Small jar whole green olives
In a small bowl, beat egg. Add chow mein noodles and garlic salt; stir to coat. Drop by 1/3 cupful onto a greased baking sheet. Using fingers, shape into small nests; make an indentation in the center of each.
Bake at 350 degrees for 12 minutes or until set. Cool for 2 minutes; remove to wire rack to cool completely.
In a bowl, combine all egg salad ingredients, mix well. Just before serving, spoon ¼ cupful into each nest. Top each nest with a couple of green olives. Serve on a platter lined with shredded or whole lettuce leaves.
Amish Macaroni Salad
2 cups elbow macaroni, cooked and cooled
3 hard-cooked eggs, chopped
1 small onion, chopped
3 stalks celery, chopped
1 small red bell pepper, seeded and chopped
2 tablespoons dill pickle relish
2 cups salad dressing
3 tablespoons prepared yellow mustard
3/4 cup sugar
2 1/4 teaspoons white vinegar
1/4 teaspoon salt
3/4 teaspoon celery seed
In a large bowl, stir together the eggs, onion, celery, red pepper, and relish. In a small bowl, stir together the salad dressing, mustard, sugar, vinegar, salt and celery seed. Pour over the vegetables, and stir in macaroni until well blended. Cover and chill for at least 1 hour before serving.
---
If you have any additional tips that you'd like to add, please post them on the
Cook'n Club Forum
(if you're a
Cook'n Club Member
)...or e-mail them to
Dan@dvo.com
.
---
Join the Cook'n Club!An unbeatable value with exclusive benefits for members only.
Enjoy articles like this and many other benefits when you join the Cook'n Club.