Feature Requests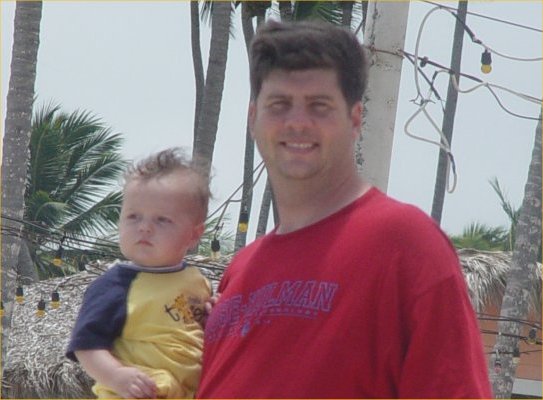 (This is my son Andan and me on vacation in the Dominican Republic a few months ago. He's a cute little guy, huh? By the way, did you see the new photos I added to the DVO About page?)
---
Something unexpected is taking place in the Cook'n Club Forum...Club members are submitting EXCELLENT feature requests for the Cook'n Software!

They are thinking of things I never thought of before. I'm getting very excited as I chat with them and get their feedback. I haven't actually got into programming mode just yet. I am still digging out from the busiest Christmas season we've ever had.

However, I will be programming soon and my whole feature list is changing to incorporate feedback from the members of the Cook'n Club. What a fun and exciting thing it is for a programmer to chat with the users and get their feedback!

Thank you to all of the Cook'n Club members for your comments. And, for the rest of you, if you want to put in your two cents, please consider joining the Cook'n Club and see how your ideas stand up to the scrutiny of the other Club members and me. I'd love to hear from you!

Best wishes!

Dan Oaks



Examples:


I'm still in the "thinking" stage of making my sisters' cookbooks. I think a scrapbook style option would be great. I'd love to make a page with the recipe and possibly a photo of the completed dish/item on the same page. I'd also love to be able to include a family photo on the same page. I was thinking of including a vintage picture of the person who either made or inspired the recipe. So, maybe a "newsletter" option, with the capability to line up the columns and a "scrapbook" feature that would allow us to paste the recipe [for instance] in the center, with a couple graphics scattered around at different angles. Then I'd like to add a couple of 3x5 or 4x6 photos (with choices on size!), maybe a nice border... Oh, the possibilities! Come on!!! I only have 11 months before their birthday and it will take me that long, hehehe.

Linda



---
When I was sharing some of my recipes here in the forum, I tried to use 'control c' to copy my recipe from my recipe book in Cook'n, but when I did the 'control v' to place it in my post, it did not work. Did I do something wrong or does that just not work within Cook'n? If it doesn't work, that is a feature I would like to see incorporated into future updates.

Judy


---
You should still be able to copy the recipe from Cook'n if you right-click and choose copy. I'm not sure why the shortcut currently doesn't work in Cook'n, but I'll remind the developers to look into it for the next update.