Who Can Resist a Pizza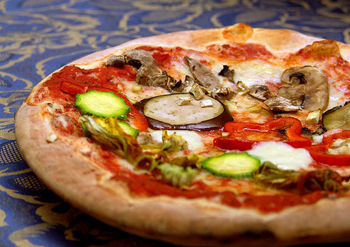 ---
Pizza is always a hit no matter what time of day or even time of year that it is served. It has become a regular staple in my house, and probably yours too. The best part about it--- my kids will ALWAYS eat it. Full tummies are guaranteed when pizza is on the menu.
At our house we prefer to make our own pizzas. Between my husband, my kids, and myself we have come up with some pretty tricky ways to make pizza. You don't always have to make homemade dough to have a great pizza. These are some of the things that we have tried.
Bagels: Cut a bagel in half and pile on the toppings. Bake at 350 until cheese is completely melted.


Pita Bread: Either cut the pita open and stuff everything in side or just put it all on top. Bake at 350 until the cheese is melted.


Tortillas: Make a pizza wrap. Lay the tortilla flat and spread on a layer of sauce and toppings. Roll it all up and throw it in the microwave-be careful it gets hot quick.


Bread: Make a pizza "sandwich" and heat it up in a sandwich maker. We call these Pizza Pockets.


Scone Dough: Ask the baker at your grocery store for scone dough (or French bread dough). It's about $0.99 a pound. Let the dough sit out on the counter for about 1 hour before you make the pizza-this lets the dough rise and it becomes more manageable. Roll the dough out on to a greased cookie sheet. Bake at 425 for about 20-25 minutes. This makes a very soft crust. It is delicious!


Make Your Own Dough: When you have the time, this is by far the best pizza to make. This pizza was served every Friday night while I was growing up. Mom was in charge of the dough and Dad was in charge of the toppings. It became a family event.
Pizza Dough - (makes 3 pizzas)
1 ea. (.25 ounce) package active dry yeast
1 tablespoon white sugar
2-1/2 cups warm water (110 degrees F)
2 tablespoons olive oil
1 tablespoon salt
1/2 cup whole wheat flour
5-1/2 cups bread flour
In a large mixing bowl, dissolve yeast and sugar in the warm water. Let sit until creamy; about 10 minutes.
Stir the olive oil, whole wheat flour, salt and 4 cups of the bread flour into the yeast mixture. Mix in the remaining flour, 1/2 cup at a time, stirring well after each addition. When the dough has pulled together, turn it out onto a lightly floured surface and knead until smooth and elastic, about 8 minutes. Lightly oil a large mixing bowl, place the dough in the bowl and turn to coat with oil. Cover with a damp cloth and put in a warm place to rise until doubled in volume; about 1 hour.
Deflate the dough and turn it out onto a lightly floured surface. Divide the dough into three equal pieces and form into rounds. Cover the rounds and let them rest for about 10 minutes. Preheat oven to 425 degrees F (220 degrees C).
Use a rolling pin to roll the dough into the desired shape, cover it with your favorite toppings and bake at 425 degrees F (220 degrees C) for about 20 minutes or until the crust and cheese are golden brown.
---
Join the Cook'n Club!An unbeatable value with exclusive benefits for members only.
Enjoy articles like this and many other benefits when you join the Cook'n Club. Click here to
find out more
.