Fall Leaf Collection
Fun-Attic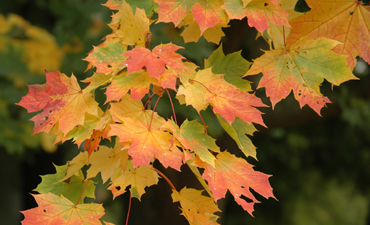 Required: String, leaves, hole punch, construction paper, wax paper, aluminum foil and iron, or clear contact paper.
Send out the troops on a fall leaf hunt. Have them collect different colors, and shapes. Each bookmaker will sort through the collected leaves looking for the best and most unique. You can also make one big book that all can share. There are two ways to put together a fall leaf collection book.
One-way is to purchase clear contact paper and cut into uniform pieces. Peel back part of the protective paper and place one or more leaves on one half of the paper. Once the leaves are placed peel back the rest on the protective paper and fold over the other half.
Another way is to use wax paper and an iron. If you use this method take several precautions not to damage your iron or other items that might come in contact with melted wax. When using an iron make sure the iron never comes in direct contact with wax paper or you end up with melted wax on your iron. (It will come off but you don't want it on any of your good clothes.) Lay a large enough piece of aluminum foil on your ironing board or ironing surface. Cut out uniform pieces of wax paper and place a leaf or two on one half and fold the other half on top of leaf. Place another piece of foil to separate the wax paper from the iron. Iron the page together with a medium heated iron. Be careful not to get burned on the aluminum foil. Peel back the foil to check your work; making sure the waxed paper has fused together. Instead of aluminum foil you can use scrap pieces of cotton material, paper towels or a heavy weight paper.
Once you have all your leaves sealed by some method you can take strips of colorful construction paper to frame each leaf page. This will also provide an area to label each type of leaf. Punch a hole through one corner of each completed piece and tie with a piece of string to form a leaf book.
---
Join the Cook'n Club!An unbeatable value with exclusive benefits for members only.
Enjoy articles like this and many other benefits when you join the Cook'n Club. Click here to
find out more
.
---