Spelt Oatmeal Cookies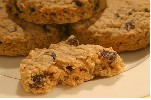 I'm looking for a recipe for oatmeal cookies made with spelt. Can you help? :o)
Pamela L. Buckingham
---
Hi Pamela,
Here are a few different spelt oatmeal cookie versions. Hope one of them will fit the bill!
Happy Cook'n,
Desi @ DVO
Stevia Oatmeal Chocolate Chip Cookies
http://vegweb.com/recipes/sweets/5163.shtml
Ingredients (use vegan versions):
1 cup flour (I use spelt or a mix of 3/4 spelt 1/4 amaranth)
2 cups regular oats
1 1/2 teaspoon stevia
1 teaspoon baking soda
1 cup hot water
1/2 cup safflower oil
1 teaspoon vanilla
1 teaspoon cinnamon
Tropical Source Semi-Sweet chocolate chips-The Best!! use as many as you want!
Directions:
Preheat oven to 325, spray a cookie sheet. Mix flour, stevia and cinnamon in small bowl. Mix oats and baking soda in large bowl. Pour hot water over the oat mixture and mix. Add oil and vanilla to oat mixture, mix well. Add flour
mixture to oat mixture, mix well. Add chocolate chips. Place on cookie sheet, they do not flatten so push them down if you want them to be flat or leave as is. Cook 13-15 minutes.
The texture of these cookies changes after a few days (they become soft, you might like this but I prefer them fresh out of the oven). I recommend cooking them in small batches. I don't add all of the chocolate chips at once. I use as much cookie dough as I want and add chips to those and cook them. Refrigerate the dough and add chips as you make each batch. I find that refrigerating the chocolate chips in the dough and then baking them alters the taste. It takes no time at all to have fresh baked cookies!
Spelt-Oatmeal Drop Cookies
http://www.bobsredmill.com/recipe/detail.php?rid=589
Ingredients:
1/2 cup Raisins (Unsulfured)
3/4 cup Water
1-1/2 cups Spelt Flour (White)
1/2 tsp Baking Soda
1/2 tsp Sea Salt
1 tsp ground Cinnamon, Saigon (Premium)
1 Tb Buttermilk Powder (Sweet Cream)
1 Tb Wheat Bran
1-3/4 cups Oats, Rolled, Regular Old fashioned
1/2 cup finely chopped Prunes or Dried Apricots
1/2 cup Sunflower Seeds (Raw Shelled)
1/2 cup chopped Walnuts-Baker's Pieces
1 Egg
1/3 cup Safflower Oil
1/2 cup Honey
Preheat oven to 350°. Grease several cookie sheets, set aside.
In a small saucepan, simmer raisins and water 5 minutes. Drain, reserving 1/4 cup of liquid.
In a large bowl, combine flour, baking soda, salt, cinnamon, buttermilk powder and bran thoroughly mix. Add oats, drained raisins, prunes or apricots and nuts.
In a small bowl, beat reserved raisin liquid, egg, oil and honey until well blended. Add to oat mixture and mix well.
Drop by level tablespoonfuls onto prepared cookie sheets. Bake in oven 12-15 minutes or until cookies are slightly brown on edges and tops are set. Do not over-bake. Remove cookies from baking sheets to wire racks to cool.
Yield: about 42 cookies
Ursula Maurer, State Fair Winner
Apple Cinnamon Raisin Oatmeal Cookies
http://www.all-creatures.org/recipes/cookies-banraisoat-pl.html
Makes 12 cookies per batch
1 cup Spelt or Whole Wheat Flour
1 cup Rolled Oats (Oatmeal), ground
1 - 1/2 cups Raisins, seedless
2 Apples
1 tsp. Cinnamon
Preheat your oven to 350 degrees F. (175 degrees C.)
Place the spelt, or whole wheat flour, and the ground rolled oats (oatmeal) in a bowl and mix together. (The rolled oats can be ground in a blender on high speed. Be sure that the container is dry before grinding.) Add the cinnamon and mix. Add 1 cup of the raisins and mix well to ensure that the raisins are separated and each one is coated with the flour mixture.
Wash the apples and cut into quarter sections. Remove and discard the cores. Place apple sections in the blender container. Add the remaining 1/2 cup of raisins and blend at high speed until all the raisins are thoroughly ground and blended with the apples.
Add the pureed apples and raisins to the flour mixture and mix thoroughly with a stiff spatula or spoon. If the cookie dough is too stiff, you may add another pureed apple or a little apple juice. A thinner dough will make a flatter cookie. A stiff dough will make irregular thick cookies.
On a non-stick or lightly oiled baking sheet, place the cookie dough in twelve equal sized "mounds." Place the baking sheet in the preheated oven and bake at 350 degrees F. for 20 to 25 minutes. Various ovens bake differently, so we suggest that you begin checking the cookies after 15 and 20 minutes of baking. When the apple cinnamon raisin oatmeal cookies are baked, remove from the oven, cool, and enjoy.
Email your thoughts to us. Tell us about you and your family, and send us a picture. We'd love to hear from you...and who knows...perhaps you will be the star of the next newsletter!