Desserts in a Hurry
by Amy Hunt
In a hurry with no time to worry about dessert? But you still have a sweet tooth to satisfy, or a spouse who seems to love you more if dessert follows a meal? Don't despair; there is always time for dessert. Try out a few of these really quick ideas.
Clean fresh ripe strawberries. Dip one at a time into sour cream and then into brown sugar. Yum! Yum!
Spread 1/2 teaspoon peanut butter between concave sides of two wheat thins. Dip into melted chocolate covering. Set in freezer for 2 minutes to harden. Tastes like Butterfingers!
Use up leftover frosting by spreading it between graham crackers. These make wonderful dessert sandwiches for little fingers.
A banana sprinkled with brown sugar makes a sweet treat.
Make up some GORP (Good Old Raisins and Peanuts). This stuff isn't just for hikers. Search your cupboards and see what you can find. GORP is great with cereal, mini marshmallows, dried fruit, small candies, nuts, pretzels,… Combine foods that are crunchy and salty (like nuts) with stuff that's sweet and chewy (like dried fruit and candy) and you have created GORP.
Any combination of fresh fruits sprinkled with a little sugar is always a treat.
Make your own ice cream sandwiches with cookies and your favorite ice cream.
If you have time for more than just GORP, try out one of these recipes. They are all tastey and quick.
---
Super Fast and Fruity Eclairs
Serves 4
1 pint strawberry or raspberry ice cream or sherbet, softened
8 ladyfinger cookies OR madeline cookies
2 cups strawberries or raspberries
Mash or puree half of the fruit and set aside. Place one cookie on each serving plate and top with a scoop of ice cream. Place some berries on the ice cream, then top with another cookie. Spoon some of the mashed or pureed fruit over the eclairs and serve.
---
Grilled Pineapple
Serves 8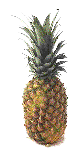 1 fresh pineapple, peeled, cored, cut into 1/2" slices
1/2 cup brown sugar
1 Tbsp. lime juice
1 Tbsp. lemon juice (or use all lime or all lemon juice)
1/4 tsp. cinnamon
3 cups orange sorbet (or any flavor)
Combine brown sugar, juices, and cinnamon in a small bowl until smooth. Spread this mixture on each side of each pineapple ring. Grill pineapple 4-5" from medium coals for 5-10 minutes, turning once, until sugar mixture melts and pineapple is heated and tender. Top each slice with a small scoop of sorbet and serve immediately.
---
Easy Toffee
1 (10 ounce) package saltine crackers
1 cup butter
1 cup light brown sugar
1 (12 ounce) package semisweet chocolate chips
1 cup slivered almonds
Preheat oven to 325 degrees F (165 degrees C). Grease a 10 x 15 baking sheet. Line baking sheet with saltine crackers, edges touching.
In a medium saucepan, combine butter and brown sugar and cook until mixture reaches 235 degrees F (112 degrees C) or a small amount of mixture dropped into cold water forms a small ball that flattens when placed on a flat surface. Pour mixture over crackers and spread evenly.
Bake in preheated oven 15 minutes. Sprinkle chocolate chips over hot toffee. When chips turn glossy, spread evenly with spatula. Sprinkle with almonds. Freeze 20 minutes before serving.
* DVO welcomes your kitchen hints and cooking or nutrition questions! Email us and we'll post your hints and Q/A's in upcoming newsletters! *