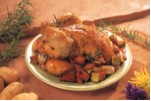 Roast chicken. Fried chicken. Grilled chicken. Shredded chicken. Stewed chicken. Baked chicken. I think that it is safe to say that chicken is the most versatile meat in the world. I would also guess that at least 30% of you are having chicken tonight. A crispy roast chicken, a classic chicken pot pie, a juicy rotisserie chicken—who doesn't count at least one chicken recipe or two in his repertoire? There is no limit to the many ways to cook the bird. Besides that almost everyone loves it.
Chicken is a healthy and favorite eating choice for many people. Not only is it highly versatile and delicious, it is good for you. Not surprisingly, one of the most commonly found lean proteins on a bodybuilder's plate is boneless, skinless chicken breast. With the highest protein and lowest fat per portion than any other part of the chicken, it's a great choice of lean protein.
No wonders Americans consume over 8 billion chickens a year!



* DVO welcomes your kitchen hints and cooking or nutrition questions! Email us and we'll post your hints and Q/A's in upcoming newsletters! *