Breakfast in a Glass
by Amy Hunt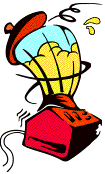 With so many places to run all summer long, who has time to cook breakfast? I find myself trying to get out the door ASAP so that I can beat the summer heat. Often I end up wolfing down a Pop-tart while trying to buckle the kids into the car. I have a real problem.
A simple solution to my problem is as close as my blender. All I have to do is throw in a few ingredients, turn it on, and I've got a delicious, thick smoothie that I can take anywhere in a spill proof mug. I have committed myself to never touching a Pop-tart again. The nutritional value of a Pop-tart vs. a smoothie (if made with the good stuff) is a "no brainer."
To get started on my smoothie quest, I looked up a few different recipes. I found this great little article on fabulousfoods.com. It has some great tips on getting the most from your smoothie.
One of the biggest complaints people have about smoothies is that tend to be icy or watered down instead of thick and creamy. A great trick for eliminating this without adding additional calories is to freeze the fruit before making smoothies. (It's also a great way to make use of fruit that is ripening faster than you can eat it.) The frozen fruit will thicken your smoothie like a milk shake, without watering it down like ice would.
NOTE: It's important to peel bananas, before freezing, otherwise it's difficult to get the peels off. Don't worry if the banana changes color, it will still taste delicious.
In the case of a smoothie that doesn't use fruit, like our coffee or mocha smoothies, make ice cubes out of coffee and use these if you want a thicker shake. Frozen coffee ice cubes also make a great addition to iced coffee drinks because the melting ice doesn't water down the drink's flavor (ditto tea for iced teas).
You can boost the nutritional value of your smoothies by adding powdered drink mixes found at health food stores, although they are quite nutritious as is. The recipes below are great jumping off places. Don't be afraid to experiment and have fun by adding different fruit combinations and coming up with your own fabulous concoctions!
For a basic smoothie, use -
1/2 to 1 cup fruit
1 cup plain or fruit yogurt
1/2 cup fruit juice
about 4 ice cubes
Combine all ingredients in a blender and process on medium high speed until smooth.
The yogurt can be plain or with fruit... regular, low-fat or non-fat. You can also use milk, sherbert or a combination of both instead of yogurt. Juice can be fresh, from a carton, or made from frozen fruit concentrate such as orange juice, pineapple juice, white grape juice or a juice blend. Your choice should compliment the fruit you're using. Add a dash of cinnamon, nutmeg, vanilla or perhaps a little honey or maple syrup. Be creative!
Peach Smoothie
1 cup vanilla yogurt
1 large fresh peach - peeled and sliced
1/3 cup orange juice
2 T. honey
1/4 tsp. ginger
6 to 8 ice cubes
Place all ingredients in a blender and process until smooth.
Strawberry-Banana Blast
1/2 cup strawberries
1 medium size ripe banana
1 small can crushed pineapple (8 oz.)
1 cup whole milk
6 to 8 ice cubes
Place all ingredients in a blender and process until smooth.
* DVO welcomes your kitchen hints and cooking or nutrition questions! Email us and we'll post your hints and Q/A's in upcoming newsletters! *