Hot Tips for Busy Bakers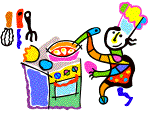 MANY RECIPES recommend preheating the oven and it's important not to skip this step. Baked items depend on the correct oven temperature to help them rise and cook properly. All this takes about 15 to 20 minutes and can be done while preparing the recipe. Place the oven racks at the proper levels first, then set to the recommended temperature.
When baking brownies, the edges sometimes get hard. To prevent this, first use an oven thermometer to make sure your oven temperature is accurate. Then test for doneness toward the end of the baking time. If the brownie springs back when lightly touched in the center and the sides have started to pull away from the pan, it is done. If your brownie recipe has a cake texture (rather than a dense, fudgy consistency), it's done when a toothpick inserted in the center comes out clean. Avoid dark-colored baking pans, which can cause the edges to brown too fast. Finally, try lowering your baking temperature by 25 degrees.

For perfect muffins and quick breads, be careful not to over-mix the ingredients. Add the liquid ingredients to the dry and stir only until moistened--don't worry about small lumps. Either use paper muffin cup liners or grease muffin tins on the bottoms and only halfway up the sides of each cup. (The un-greased portion of the cup will allow the batter to climb up the sides for a higher muffin.) Fill the muffin cups about two-thirds full unless otherwise directed in the recipe.
Email your thoughts to us. Tell us about you and your family, and send us a picture. We'd love to hear from you...and who knows...perhaps you will be the star of the next newsletter!