A Wok on the Wild Side

My decision to invest in a good wok came when my husband and I had invited company over for dinner. Being the clever person that I am, I was cooking stir-fry for 8 in a skillet on my stove top. I had timed my veggies just right, waiting until the last minute to add bean sprouts. I was trying to quickly toss the bean sprouts in and make sure that they were well covered in the orange ginger sauce. Needless to say I ended up with a huge mess. Apparently "tossing" that amount of veggies in a skillet just doesn't work.
When my husband's friend saw me cleaning pea pods and water chestnuts off the splattered stove top, he just laughed and said, "You know if you had a wok you wouldn't have to be cleaning that up." So now I will be the first to testify that a good wok makes it easier to cook Chinese food.

The wok has always been the utensil of choice for stir-frying, a cooking technique that was developed to deal with shortages of both oil and ingredients. They allow you to cook more with less oil. The wok's unique shape ensures that heat is distributed evenly, allowing for faster cooking times. And the wok's deep, sloping sides make spills, like mine, less likely. It ensures that food tossed during stir-frying lands back in the pan.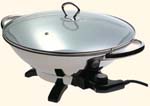 When you make the decision to invest in a wok, remember that it's very important to season your wok before using it for the first time. Seasoning removes the preservative oil manufacturers place on the wok to prevent rust, replacing it with a light coating of cooking oil. It is also important to clean your wok after each use.
There are many different uses for a wok. Don't think that you are limited to only cooking Chinese. In a forum on about.com people shared the many uses of a wok. Here are some of the creative ideas.
We use an electric wok for beef fondue. It beats a regular fondue set - no denatured alcohol burning (and smelling), and a bigger pot. Works like a champ! Just be sure to watch that no one trips over the electric cord...

From Darhl Stultz
When I'm having a Mexican-style get together I use mine (set on very low heat) to keep tortillas warm.

It makes a dandy room freshener - put some water and a piece of lemon, orange, lime, cinnamon stick, etc, and put it on low heat.
I have also put mesquite chips in mine, lay a rack over it, and used it to impart a quick mesquite smoked flavor to quail (a la the Chinese dish where you use tea instead of mesquite and chicken instead of quail). Just make sure you have a good exhaust fan. Also, putting foil in the bottom makes cleanup a LOT easier.
From Craig Moore
I've often used my wok (electric with silverstone lining) as a steamer. I put an empty tuna fish can, both ends cut out, a pan on top of that, and a little water on the bottom. I still do halibut this way, with a little bit on ginger and garlic.
From Ellen Scott
Woks are great for making taco filling or any of the rice-and-pea sort of dishes...
From Yosemite
(A 14 inch wok) is perfect for mixing batters and kneading dough.
From Jo-Ann


* DVO welcomes your kitchen hints and cooking or nutrition questions! Email us and we'll post your hints and Q/A's in upcoming newsletters! *