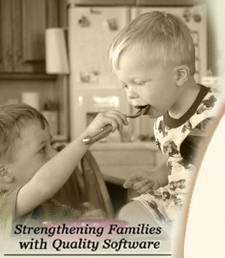 | | |
| --- | --- |
| Volume II | August 31, 2003 |
---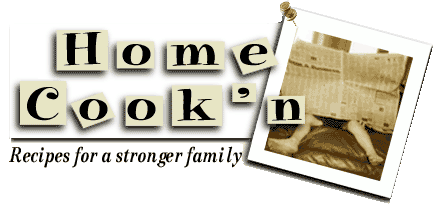 You Say Tomato...I Say Tomawto
Desiri Wightman, RD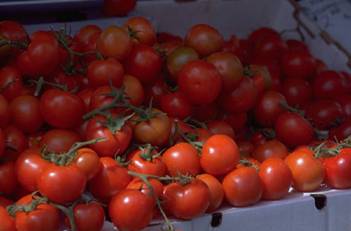 No matter how you really say it, is any vegetable (or should I say fruit) more loved? Most likely it's not the first produce product that comes to mind when asked your favorite vegetable, but certainly it is the most used, finding its way into everything from appetizers to desserts. And it's not just the ripe ones being used, either. Many recipes have emerged to use up the loads of green tomatoes clinging to tomato vines after that first nipping frost. Truly, the tomato is even more versatile than zucchini.

As full of nutrients as they are juice, tomatoes provide the body with high doses of vitamins A and C, are jammed with potassium, and lend a little bit of iron and calcium. Other natural compounds in tomatoes (you've heard of lycopenes) may help reduce risks of prostate cancer in men. Whether they do or do not decrease cancer risk, tomatoes continue to add a healthful, and tasty, dimension to balanced diets.

The greatest thing about tomatoes, though, has got to be that no preparation is required. So, if you aren't quite up to cooking or stewing, find yourself a salt shaker and a fresh tomato, a quiet place to enjoy it, and letting the juices and seeds run down your chin and onto your fingers, declare "Hello Autumn!"



TOMATO BASICS


Tomato Conversions, Yields, and Substitutions
Peeling, Coring, and Seeding
Canning
Freezing
Drying

Tomato Conversions, Yields, and Substitutions


Size of Tomato:
Weight:
Approximate yield when chopped:
Cherry
Plum
Small
Medium
Large
Extra-large
1 small can tomatoes
1 large can tomatoes
Fresh tomatoes

1 can tomato paste
1 can tomato sauce



1 cup tomato juice

1 cup canned tomatoes
1/2 cup catsup or chili sauce

1 oz
2-3 oz
3-5 oz
6-8 oz
9-12 oz
13-16 oz
15 oz
28 oz
2-1/2 lbs

6 oz
8 oz

1 tablespoon, 1 cup = 5 oz
1/3 cup
2/3 cup
3/4 cup
1-1/4 cups
2 cups
1-1/2 cups
3 cups; 2-1/2 cups when drained
2-1/2 cups cooked tomatoes, including juices
3/4 cup or 12 tablespoons paste
3/4 cup paste + 1/4 cup water, or 8-oz can stewed tomatoes, blended in blender, or 1 cup seasoned tomato puree
1/2 cup tomato sauce + 1/2 cup water
1 1/3 cups chopped fresh tomatoes, simmered 10 minutes
1/2 cup tomato sauce + 2 tablespoons sugar + 1 tablespoon vinegar

Peeling, Coring, and Seeding

Removing skins from tomatoes is delightful--messy, but delightful. Kids will love to help slip the juicy tomato from its outer covering. Thankfully, the simplicity of removing the skins makes fresh tomatoes a treat to work with and use fresh in sauces.

First, remove the core while the tomato is still firm and not hot. Cut a V-shaped indentaion around the core and lift it out with the knife. Cut an X on the bottom of the tomato (not necessary, but does help the skins to split faster). Drop the tomatoes into boiling water for 30 to 60 seconds. Remove with tongs or a slotted spoon. You can let the tomato cool or remove it to an ice water bath. Some believe the ice water dilutes the flavor; however, if you are in a hurry, it sure cools the tomato quickly and often helps the fruit slip right from its peel. Once cool, peel the skin from the tomato with your fingers.

Seed the tomato by cutting each tomato in half and either squeeze the seeds out or scoop them out with a teaspoon. When seeds are cooked, as in sauces, they turn bitter and may be unappealing. For this reason, it is best to get rid of the excess easily with a little squeeze; it is an optional step, though.


Canning

Multitude methods exist for canning tomatoes--chopped, sauced, whole, crushed, etc. These processing methods are beyond the scope of this article. In addition, different altitudes and varieties of tomatoes often require different guidelines for canning tomatoes safely. You can get the latest updates by calling or visiting your local university extension office. Look in the government section of your phone book or do an internet search for the office nearest you. Meanwhile, if you are ready to can, you can use the extensive recipes and guidelines for tomatoes from government publications available at www.uga.edu/nchfp/tips/summer/home_preserv_tomatoes.html.

Freezing


While canned tomatoes store better and longer than frozen ones, freezing allows you to easily take care of a bumper crop of tomatoes quickly. In my limited garden space, all the tomatoes I need to make salsa don't ripen all at once. So, to acquire the needed amount, I pick the red tomatoes as they ripen and store them whole in my freezer until I accumulate enough to start canning them. Since they are chopped up and cooked so much in my salsa, any mushiness caused from freezing doesn't affect my final product.

Whole Tomatoes
To freeze tomatoes whole, clean them and place them on a baking sheet. Freeze until firm. Then package them in a plastic bag for freezer storage. The skins split during freezing, helping you remove them easily when needed. To thaw tomatoes quickly, run them under warm water and pull off skin.

Chopped Tomatoes
Use chopped frozen tomatoes in sauces or any recipe calling for canned tomatoes. Pick, peel, seed, and chop your tomatoes. Do not drain. Place the chopped product in plastic containers, jars, or resealable freezer bags. Freeze for 2-3 months.


Drying
You can easily make your very own sun-dried tomatoes (or oven-dried) at home and save a pretty penny over store-bought ones. Using plum tomatoes works best for dried tomatoes because they contain less water, thus they require less time for drying. Also, because they are meaty, you are left with a flavorful, fleshy product once dried. Cherry tomatoes also make a nice dried product. Choose tomatoes that are at their peak of ripeness, unbruised, and sweet in flavor. To determine if tomatoes are dry enough, weigh them before and after drying. When dry, they will weigh half of what they did when fresh. If a scale is not available, look for leathery, yet pliable, tomatoes when dry enough. If they are brittle, they're over-done.

When dry, pack the tomatoes into clean jars, cover with olive oil, and store in the refrigerator. Alternatively, pack the tomatoes dry in resealable freezer bags and store in the freezer for up to one year. Two pounds plum tomatoes yields about 2 to 2-1/4 cups dried tomatoes.

For the herb-lover, pack your dried tomatoes in this refreshing oil for storing your dried tomatoes:

Herb-Lover's Dried Tomatoes
3/4 cup extra virgin olive oil
1 sprig fresh rosemary
4 sprigs fresh thyme
2 sprigs fresh oregano
1 bay leaf
2 cups dried tomatoes

Place olive oil in small saucepan and heat until warm. Remove from heat and add herbs. Let sit for one hour. Pack cooled tomatoes into a jar and cover with the oil. Turn the jar over a few times to coat all the tomatoes. Store in the refrigerator for up to 3 weeks.

Sun-dried Tomatoes


Acquire screens for drying. You can staple clean window screen to wooden frames or use screens from a dehydrator. Wash, dry and halve plum tomatoes. Blanch the tomatoes for 30 seconds to improve the flavor of the end product. Skin, slice in half, and remove the seeds. Place cut side up on the screens. Move trays outdoors into direct sunlight. Bring them in at night or if rain is threatening. You can keep bugs off by making an additional cover of window screen or layers of cheesecloth. Make sure the cover rests above the tomatoes and doesn't touch them. Cherry tomatoes take about a day of sunlight to dry. Plum tomatoes take a few days.

Oven-dried Tomatoes


Blanch the tomatoes for 30 seconds in boiling water to improve the flavor of the end product. Remove the skins, slice in half, and remove the seeds. Place cut side up on a baking sheet. Sprinkle with coarse salt and let sit for 1 hour. Preheat the oven to 250 F. Bake the tomatoes for 5-6 hours or until they are almost dry (plump, slightly soft). Check the tomatoes every hour or so to remove any scorched tomatoes and to rotate baking trays for even drying.

For added flavor, sprinkle chopped garlic and sprigs of herbs (thyme, basil, marjoram, oregano) over the tomatoes before drying.






* DVO welcomes your kitchen hints and cooking or nutrition questions! Email us and we'll post your hints and Q/A's in upcoming newsletters! *
---
---
Also Available At:









Affiliate Program
|
Privacy Policy
|
Other Resources
|
Contact Us

© 2007 DVO Enterprises, Inc. All rights reserved.
Sales: 1-888-462-6656
Powered by
WithinMySite.com