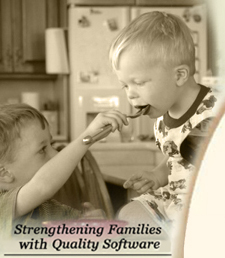 Cook'n with Betty Crocker

$29.95




Cook'n Software Download

$79.95


While walking around Staples, I saw the Cook'n program and started reading what it had to offer. I was fascinated with everything. So, I added it to my Christmas list, and imagine to my surprise, I received it from my husband.

I was overwhelmed and thrilled with all the recipes it had. I was excited to get started using the program. I have only a few added, but with time I can add more and throw away all my wrinkled, stained, and torn recipes I have written on paper, napkins, or whatever was available.
I also received a beautiful recipe box for Christmas, and I plan on saving my recipes on disk and print some on recipe cards I hope to purchase from you in the very near future. I loved the samples that were included with the program.
I am going to tell family and friends about this program, and highly recommend it!

Sincerely, Michelle Hoffert

• Current Issue

• Newsletter Archive
• Contact Info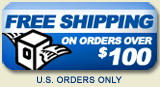 DAILY SPECIAL
Order today and receive a 10% Off All Orders of Cook'n!
Find out how.
Cook'n Low Fat Low Cholesterol
Healthy eating made easy and convenient, including your favorite foods!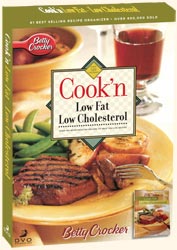 (click picture to enlarge)
Cook'n Low Fat
---
List Price: $58.00
Your Price: $19.95
You Save: $38 (66%)


---
NOTE: The download contains the recipes ONLY. You must have Cook'n installed to use this download! The CD contains the Cook'n Recipe Browser. If you want to organize your own recipes you should purchase the Cook'n Recipe Organizer.
---
Availability: Usually ships within 24 hours
System Requirements >>
Not sure what to order? >>

FEATURES
---
Over 120 low fat recipes

Analyze the nutritional value of recipes

Learn everything you need to know about fats and cholesterol

Create weekly menus & generate shopping lists

Healthy and delicious recipes with over 50 photos!
---
Managing fat and cholesterol in today's diet doesn't mean cutting out your favorite foods. Cook'n Low Fat Low Cholesterol contains over 120 healthy and delicous recipes, plus photos from Betty Crocker's Low Fat, Low Cholesterol Cookbook.

---

Cook'n Low Fat Low Cholesterol is all about eating well, which means eating foods that are good for you and, even more importantly, enjoying what you eat. Just about everyone recognizes that healthy eating is a good idea, yet in a survey conducted by the American Diatetic Association, less than half of Americans felt that they were doing all they could to eat well.

The top three reasons for not eating well were:
1. A fear of having to give up favorite foods.
2. It takes too much time.
3. Information on health is contradictory.

Forget your fears! Healthy eating can be easy and convenient, and it can include your favorite foods.
Cook'n Low Fat Low Cholesterol connects the dots between good taste, good food and good nutrition.

120 recipes, photos, instructions, and more!
• See the recipes that come on this CD.
• Learn more about the features of the Cook'n engine.
• Find out what people are saying about Cook'n.
---
Customer Reviews


---
---
Customers who bought this item also enjoy: