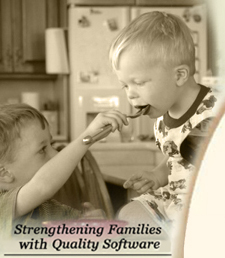 TOP SELLERS
I am here to say THANK YOU! Your software is great!!! I do feel like a part of the family. When I read the description of the software at your website, I thought it was too good to be true (the price, the ability of the software, etc.). I even called your company by telephone to ask if I understood the promotional information correctly. Upon receiving it and using it, I have discovered that every bit of it is true! (I LOVE the nutritional calculation feature!) Thanks so much for your product and for keeping it affordable, too!

I will look forward to each newsletter!


Debi Self

• Current Issue
• Newsletter Archive
• Contact Info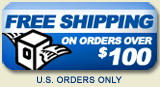 Italian Recipes from Cook'n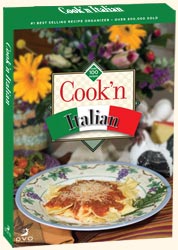 for Windows 95/98/2000/ME/XP/NT/Vista/Vista
---
---
125 of the best Italian recipes. Includes full-color photos, video clips, cooking tips, and more!
Homemade Pastas

Basic Spinach Pasta Dough.
Strichetti Pasta (Butterfly Pasta)
Tortellini with Meat Filling
COOKING HOMEMADE PASTA
Tortellini with Cheese Filling
Ravioli with Ricotta and Spinach
Ravioli with Cheese Filling
Basic Egg Pasta Dough

Le Salse (Sauces)

Basic Butter Cream Sauce
The Best-o-Pesto Sauce
Basic Tomato with Garlic Sauce
Sweet & Sour Sauce
Tomato Sauce, Bolognese Style
Garlic and Tomato Sauce
Meat Sauce
Tomato sauce with bacon
Why-not Walnut Sauce
Creamy Gorgonzola Sauce
Tomato Sauce with Onion and Butter
The Worlds Best Spaghetti Sauce

Pane (Breads)

Cheese and Sage Biscuits
Focaccia Bread
Garlic Cheese Toast
Garlic Bread
Bread Sticks
Dinner Rolls
OW Bran Bread
Basic Polenta
Common Bread
Bread Dumplings

Antipasti (Appetizers)

Bruschetta with Basil
Tuna in Rolled Red Peppers
Tomatoes, Mozzarella, and Basil
French Toast-Italian style
Italian Fritters
Calamaro Salad
Vegetable Bread Puffs
Artichoke Dip
Arancini

Minestre (Soups)

Italian Pasta and Bean Soup
Barley Soup
Onion Soup

White Bean Soup
Italian Sausage and Lentil Soup
Pasta and Chick-Pea Soup
Smoked Turkey, Wild Rice, and Mushroom Soup
Creamy Potato Soup
Zuppa Toscana
Minestrone
Pasta e Fagioli
Zucchini Soup
Meatball and Swiss Chard Soup

Primi Piatti (Pasta, Rice, or Gnocchi)

Pasta with Almonds & Cream
Fettucine Alfredo
Capellini with Cilantro Pesto
Risi E Bisi
Tagliatelle with Ham
Potato Gnocchi
Linguine with Pesto Sauce
Spaghetti with Bacon and Onion
Angel Hair Pasta with Garlic and Tomato Sauce
Spaghetti with Garlic and Oil
Basic Polenta
Fried Polenta
Polenta with Butter and Cheese
Polenta with Mushrooms
Fried Mozzarella
Sage Potatoes
Olio e Aglio
Spaghetti alla Carrettiera
Baked Pasta with Eggplant
Mostaccoli
Pasta Primavera
Spinach Manicotti
Cheese Stuffed Manicotti
Angel Hair Patties

Contorne (Vegetables)

Baked Stuffed Zucchini Boats
Stuffed Artichokes
Eggplant Parmesan
Carrots with Marsala
Deep fried Cauliflower
Sauteed Green Beans with Butter and Cheese
Fonduta with Steamed Vegetables
Steamed Fresh Vegetables with Lemon Butter
Marinated Summer Salad
Asparagus with Parmesan
Italian Tossed Salad
Broccoli Pasta Salad


Secondi di Pesce (Fish & Shellfish)

Broiled Shrimp & scallops
Poached Halibut with Garlic Butter Sauce
Seafood & Mushrooms
Farfalle with Salmon
Shrimp Scampi

Secondi di Carne (Poultry, Beef and Pork)

Stuffed Chicken Breasts
Stuffed Pork Chops
Grilled Chicken Pasta Toss
Mama B's Lasagne
Baked Rigatoni with Meat Sauce
Herb Roasted Pork
Honey-Orange Pork Chops
Italian Meat Loaf with Roasted Pepper
Baked Chicken
Roast Beef
Chicken Fettucine
Italian Chicken

I Dolci E La Frutta (Desserts and Fruits)

Italian Apple Fritters
Apple Strudel
Panna Cotta
Ambrosia Toss Fruit Salad
Ricotta Cookies
Cannolli Pastry Shells
Cannoli Fillings-The Quick Way
Chocolate Biscotti
Chocolate Covered Puffs
Grandma's Christmas Nut Roll
Blackberry Torte
Italian Cream Cake
Cannoli Fillings

Panini (Sandwiches)

Open Bread Rolls
Tramezino

Pizzas

Pizza Dough
Calzones
Pizza Sauce
Four Cheese Pizza
Pizza Parmigiana
Ham Pizza
Cheese Pizza
Onions and Olives Pizza
Pizza Sauce with Pizazz
BBQ Chicken Pizza
Vegetarian Pizza
Chicken Alfredo Pizza
ALCOHOLIC SUBSTITUTIONS

Cook'n Italian
$19.95
$14.95

(NOTE:

Cook'n

must be installed to use this Recipe Download)
Not sure what to order? Click Here
Click
here
to learn more about the features of the Cook'n engine.
Click
here
to find out what people are saying about Cook'n.
Italian Cookware

Al DenteT 5 Piece Pasta Set - $59.95
The Al Dente 5 Piece Set is a pasta machine that can make five different types of delicicous homemade pasta: angel hair, wide lasagna, spaghetti, fettuccine, and ravioli.



---

Pasta Machine Motorizer - $79.95
The Pasta Machine Motorizer attaches to your manual pasta machine so that both hands are free to handle the pasta. You will make pasta of uniform thickness more quickly.



---

Cannoli Forms - $3.95
Makes a scrumptious Italian treat!



---

Pasta Drying Rack - $11.95
The Pasta Drying Rack is perfect for drying fresh, homemade pasta.



---

Ravioli Maker - $12.95
Fill, cut, and seal perfect ravioli every time!



---

Deep Lasagna Pan - $29.95
The Deep Lasagna Pan has extra tall 4 in. sides.



---

Pizza Stone - $19.95
Perfect pizzeria-style crispy crust!



---

Oil & Vinegar Duet - $9.95
Decorative and functional oil and vinegar in a single bottle.



---

Touch of Oil Sprayer - $6.45
An environmentally friendly, non-aerosol spray bottle for oils and vinegars.