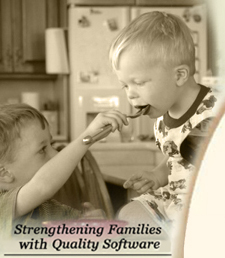 Cook'n with Betty Crocker

$29.95




Cook'n Software Download

$79.95


I recently purchased your Cook'n and love it! I have tried several other cookbooks but found them unsatisfactory. My main goal was to be able to put my own recipes into a system that was easy and quick. Yours has everything! I especially love the tips when you first turn to book on.

I have tried several of your recipes and they all have been wonderful!

Thank you!!

• Current Issue

• Newsletter Archive
• Contact Info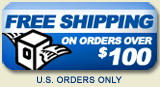 DAILY SPECIAL
Order today and receive a 10% Off All Orders of Cook'n!
Find out how.
The Ultimate Recipe Organizer
6,000+ recipes at your fingertips with
Cook'n Deluxe, the Ultimate Recipe Organizer!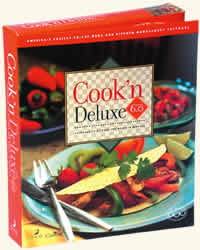 (click to enlarge)
Cook'n Deluxe
---
List Price: $69.95
Your Price: $49.95
You Save: $20


---
NOTE: The download contains the recipes ONLY. You must have Cook'n installed to use this download! The CD contains the Cook'n Recipe Browser. If you want to organize your own recipes you should purchase the Cook'n Recipe Organizer.
---
Availability: Usually ships within 24 hours
System Requirements >>
Not sure what to order? >>

FEATURES
---
Browse over 6000 recipes
Adjust recipe serving sizes automatically

Enter & organize your own recipes

Quickly Search hundreds of recipes in seconds

Retail Value: $730.00
---
Over 20 years ago, Miriam Loo founded the Current Test Kitchen and developed hundreds of delicious dishes. In the tradition of good taste and healthy living, she offers hundreds of her personally tested treats in the Cook'n Deluxe recipe organizer.


---

Ms. Loo first introduced her recipes into the Current line by including them on simple note cards and calendars.

Now, with just a click of your mouse, you too can enjoy all the favorites from Ms. Loo and Current's Kitchen on the Cook'n Deluxe CD.

Cook'n's recipe organizer makes entertaining a snap. Simply select the number of guests you will be serving and enter it into your favorite Current recipe. Cook'n calculates the new


ingredient amounts for you. No more measuring madness! What's more, a simple and easy-to-learn drag and drop selection system allows you to compile weekly and monthly menus full of Ms. Loo's most delectable dishes.

Have a special occasion or evening guests? Prepare the delectable Rosemary Chicken dish. Or, savor a rich Raspberry Truffle dessert. The Cook'n Deluxe recipe organizer has everything you need to make mealtime memorable.

6000+ recipes, photos, instructions, and more!
• See the recipes that come on this CD.
• Learn more about the features of the Cook'n engine.
• Find out what people are saying about Cook'n.
---
Customer Reviews


---
---
Customers who bought this item also enjoy:
| | | |
| --- | --- | --- |
| Cook'n with Betty Crocker | Cook'n with Taste of Home | Cook'n with Pillsbury |