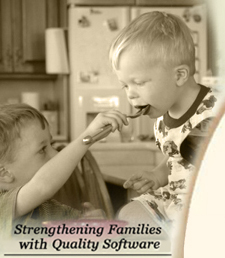 Cooking for Two
All the flavor and fun of a great big meal, but in amounts that make sense for two.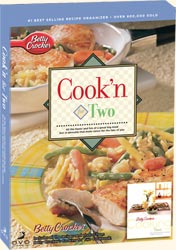 (click picture to enlarge)
Cook'n for Two
---
List Price: $60.00
Your Price: $19.95
You Save: $40 (66%)


---
NOTE: The download contains the recipes ONLY. You must have Cook'n installed to use this download! The CD contains the Cook'n Recipe Browser. If you want to organize your own recipes you should purchase the Cook'n Recipe Organizer.
---
Availability: Usually ships within 24 hours
System Requirements >>
Not sure what to order? >>

FEATURES
---
Delicious and Fun Meals to Enjoy Together

Great Ideas Make Cooking a Breeze

Simple but Scrumptious

Menu Planning For Two is a Snap

Betty Crocker, Only the Best
---
Betty Crocker brings you delicious recipes and great ideas to make cooking for two a breeze. Cook'n for Two contains 125 Easy and Delicious Recipes for Two , plus photos from Betty Crocker's Cooking for Two Cookbook.

---

Cook'n for Two includes all of the recipes, photos, and tips from Betty Crocker's Cooking for Two Cookbook.

You deserve the best--delicious and fun meals to enjoy together. But does every recipe you like make too many left-overs? That's because most recipes are for four, six, or even eight--and that's too much.

So, if you cook for two--whether you're newlyweds, roommates, or just getting used to having the kids out of the house--you can have it all with Cook'n for Two.

Every Chapter features special lists for making cooking for two easier and more convenient. 125 delicious recipes including starters like Blue Cheese Quesadillas, Wonderful Main Courses, and Superb Desserts.

There is no need to scale down here, this special CD really is designed for two--just making your life easy, so you can worry about more important things.

We know that it can be a challenge but with Cook'n for Two, you will have recipes, tips, and strategies that will make it easy.



125+ recipes, photos, instructions, and more!
• See the recipes that come on this CD.
• Learn more about the features of the Cook'n engine.
• Find out what people are saying about Cook'n.
---
Customer Reviews


---
---
Customers who bought this item also enjoy: