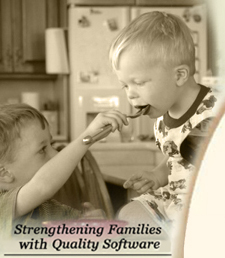 TOP SELLERS
I have wanted a recipe database for quite some time because I am always misplacing my recipes, or not able to remember which cookbook they are in! My favorite feature is the palm pilot sync, especially for the shopping list. Your staff is great. Thank You,

Julie Colorado

. Current Issue

. Newsletter Archive

. Contact Info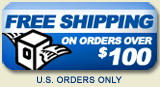 DAILY SPECIAL
Order today and
SAVE 10%! Click here to find out how.
Comfort Food Recipes from Cook'n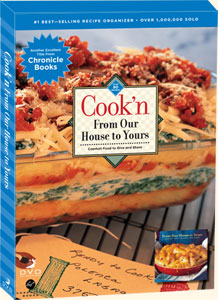 for Windows 95/98/2000/ME/XP/NT/Vista
---
---
Over 300 Shortcut Recipes for Delicious Home-Cooked Meals
Simple Soups

Chicken Soup With Matzo Balls
Thai Chicken-Coconut Soup With Galanga
Asian Chicken Noodle Soup
Old-Fashioned Vegetable-Rice Soup
Minestrone Romano "A Crudo"
Shiitake, Miso, And Barley Soup
Cream Of Leek And Potato Soup
Double Split Pea Soup
White Bean Soup With Winter Greens
Creamy Corn Soup
Beef And Barley Soup With Mushrooms
Curried Pumpkin Soup
*Simple Soups
Chicken Soup For The Soul

Casseroles, Baked Pastas, And Potpies

Baked Rigatoni With Four Cheeses
Chicken Potpies
French Sheperd's Pie With Celery Root And Potato Topping
Tamale Pie
Italian Risotto Frittata
Spinach And Mushroom Chilaquiles
Polenta Lasagna With Tomatoes And Peppers
Baked Eggplant Parmesan
Lasagna Casserole With Meat And Red Wine Sauce
Baked Conchiglione With Spinach-Ricotta Filling
Turkey Tetrazzini
Noodle Kugel
Potato And Portobello Mushroom Casserole
Macaroni And Cheese
*Casseroles, Baked Pastas, And Potpies


Roasts, Braises, And Stews

Roast Chicken With Lemon, Garlic, And Rosemary
Chicken Simmered With Tomatoes, Fresh Herbs, And Red Wine
Classic Burgundy Beef
Beef Chili
Ratatouille
Tagine Of Lamb With Prunes
Little Meat Loaves
Mom's Meatball-Stuffed Peppers
Basque-Style Fisherman's Stew
Curried Tofu With Spinach And Tomatoes
*Roasts, Braises, And Stews

Salads And Sides

Tailgate Potato Salad
Bradley Ogden's Mashed Red Potatoes
Green Bean Salad With Yellow Pepper, Jicama, And Tomato
Carmelized Roasted Vegetables
Braised Lentils With Bacon
Autumn Rice With Red Peppers And Pine Nuts
Soba Noodle Salad With Tamari Dressing
Warm Moroccan Beet Salad With Tangerines
Couscous Salad
*Salads And Sides

Sweets

Butterscotch Pudding
Erna's Make-In-Your-Sleep Raspberry Rice Pudding
Zuni's Café's Chocolate Pot De Crème
Chocolate Bread Pudding With Sun-Dried Cherries
Apple Crisp With Dried Fruits
Buttery Pound Cake

Glazed Cinnamon Rolls
Mrs. Keller's Gingerbread
Poached Pears With Orange Sauce
Mile-High Lemon Angel Food Cake With Lemon Glaze
Oatmeal-Raisin Cookies
Chocolate Chip Cookies
S'more Squares
Double-Fudge Frosted Brownies
*Sweets

Healing Tonics And Elixirs

Citrus Remedy
Herbal Ginger Brew
Rosemary Rejuvenating Tonic
Rest And Refresh Tea
Hot Honey Lemonade
Stomach Soother Smoothie
Flu-Buster Smoothie
C-Breeze Smoothie
*Healing Tonics And Elixirs
Ginger Syrup

Stocks & Sauces

Chicken Stock
Vegetable Stock
Green Sauce
Red Pepper-Tomato Sauce
Tomato Sauce
Gremolata
Quick Tomato Sauce

Cookbook Information

01-Forward
02-Introduction
03-Bringing Food To Friends
04-Author Biographies
05-Permissions
06-Table of Equivalents: Abreviations
06-Table of Equivalents: Length Measures
06-Table of Equivalents: Weights
06-Table of Equivalents: Oven Temperatures
06-Table of Equivalents: Liquids

Cook'n From Our House to Yours
$19.95
$14.95

(NOTE:

Cook'n

must be installed to use this Recipe Download)
Not sure what to order? Click Here
Click
here
to learn more about the features of the Cook'n engine.
Click
here
to find out what people are saying about Cook'n.