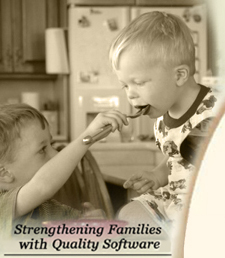 TOP SELLERS
I am here to say THANK YOU! Your software is great!!! I do feel like a part of the family. When I read the description of the software at your website, I thought it was too good to be true (the price, the ability of the software, etc.). I even called your company by telephone to ask if I understood the promotional information correctly. Upon receiving it and using it, I have discovered that every bit of it is true! (I LOVE the nutritional calculation feature!) Thanks so much for your product and for keeping it affordable, too!

I will look forward to each newsletter!


Debi Self

• Current Issue
• Newsletter Archive
• Contact Info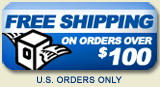 Cancer Recipes from Cook'n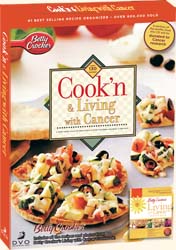 for Windows 95/98/2000/ME/XP/NT/Vista
---
---
130 Cancer Recipes and Photos from Betty Crocker's Living with Cancer Cookbook.
Coping With Side Effects

Q&A: WHY AM I TOO TIRED TO EAT ANYTHING?
Berry-Banana Smoothie
Q&A: WHY DOES FOOD HAVE A METALLIC TASTE?
Spicy Citrus Chicken
Q&A: WHY DO I FEEL NAUSEATED ALL THE TIME?
Refreshing Lemon-lime Drink
Q&A: WHY IS MY MOUTH ALWAYS DRY?
Cranberry Herbal Tea Granita
Q&A: WHY AM I CONSTIPATED?
Hot Fruit Compote
Q&A: WHY DO I HAVE DIARRHEA?
Milk and Rice "Soup"
Q&A: HOW CAN I EAT WITH MOUTH SORES?
Creamy Seafood Risotto
Q&A: HOW COME I'M NOT HUNGRY?
Crunchy Fruit Snack Mix
Q&A: WHY DO I HAVE SO MUCH HEARTBURN?
Lentil-Rice Casserole
Q&A: WHY DOES IT HURT WHEN I SWALLOW?
Roasted Garlic Mashed Potatoes
KEY TO COMMON SIDE EFFECTS

Energy-Boosting Breakfasts

Country Eggs in Tortilla Cups
Poached Eggs in Milk
Cheesy Ham and Asparagus Bake
Blueberry Breakfast Bake
Home-Style Oatmeal with Raisins
Cheese Grits
Cinnamon-Raisin Morning Mix
Fruit Parfaits
Banana Bread
Easy Brown Bread
Rise 'n Shine Muffins with Creamy Orange Glaze
Streusel-Topped Fruit Brunch Cake
Blueberry Brunch Cake
Baking Powder Biscuits
Tropical Pancakes
Potato Pancakes with Cinnamon Apples
Cinnamon Apples
Cheesy Pear Oven Pancake
Baked French Toast with Strawberry-Rhubarb Sauce
Make-Ahead Waffles with Peanut Butter Spread
KEEP A LEMON IN YOUR KITCHEN...AND OTHER WAYS TO REDUCE NAUSEA

Fatigue-Fighting Snacks

Roasted Vegetable Dip
Zucchini Bites
Oven-Fried Potato Wedges
Onion and Rosemary Focaccia Wedges
Tomato Bruschetta
String Cheese Sticks
Super Grilled Cheese Sandwiches
Veggies and Cheese Mini-Pizzas
Hot Turkey Sandwiches
Easy Chicken Nuggets
Philly Beef Sandwiches
Quick Quesadillas
Chicken Salad in Pitas
Mozzarella and Tomatoes
Fresh Salsa
Creamy Caramel Dip with Fruit
Spinach Dip in Bread Bowl
Easy Salmon Spread
Citrus-Peach Smoothie
Watermelon-Kiwi-Banana Smoothie
Orange-Pineapple Smoothie
Sugar 'n Spice Green Tea
Chai Tea
SNACK BUSTERS
Snappy Stuffed Tomatoes


20-Minute Main Dishes

Fettuccine with Asparagus and Mushrooms
Mediterranean Couscous and Beans
Angel Hair Pasta with Avocado and Tomatoes
Creamy Quinoa Primavera
Pasta with Chicken in Chili Sauce
Honey-Mustard Turkey with Snap Peas
Caribbean Chicken Salad
Cantaloupe and Chicken Salad
Spinach-Shrimp Salad with Hot Bacon Dressing
Chutney-Salmon Salad
Savory Scallops and Shrimp
FLAVOR BOOSTERS
Chopped Vegetable and Crabmeat Salad
Carrot-Tuna Salad
Fiesta Taco Salad
Potato-Tomato-Tofu Dinner
Loaded Potatoes
Macaroni Pasta "Soup"
Cream of Broccoli Soup
Easy Beef Stroganoff
Caramelized Pork Slices

Make-Ahead Meals

Corn and Black Bean Salad
Seven-Layer Pasta Salad
Layered Chicken Salad
Southwestern Pork Salad
Dijon Chicken
Italian Chicken Rolls
Chicken Noodle Casserole
HUMOR AND HEALING
The Ultimate Chicken Casserole
Chicken Soup with Homemade Noodles
White Turkey Chili
Crowd-Size Minestrone
Layered Beef and Vegetable Dinner
Beef-Vegetable Soup
Spaghetti and Meat Squares
Almond-Stuffed Pork Chops
Extra-Easy Baked Ziti
Easy Lasagna
Italian Spaghetti Sauce
Wild Rice, Sausage and Mushroom Casserole
Sausage, Vegetable and Cheese Strata
Crab Scramble Casserole

Family-Pleasing Main Dishes

Creamy Corn and Garlic Risotto
Spaghetti and "Meatballs"
Ravioli with Tomato-Alfredo Sauce
Potato and Tomato Pizza
Acorn Squash and Apple Soup
Cheesy Vegetable Soup
Fresh Spinach and New Potato Frittata
Hash Brown Frittata
Salmon Burgers
Layered Tuna Casserole
Crispy Baked Fish with Tropical Fruit Salsa
Lemony Fish over Vegetables and Rice
Chicken and Vegetable Stir-Fry
Cheesy Chicken and Vegetable Dinner
Chicken and Green Beans with Rice
Turkey Tetrazzini
Turkey Club Squares
Old-Fashioned Beef Pot Roast
Beef Fajita Bowls
Cheesy Beef Enchiladas
Beef and Bean Dinner
Beef-Barley Stew
Breaded Pork Chops
Zesty Autumn Pork Stew
SET THE TABLE, AND SMELL THE FLOWERS


Comforting Side Dishes

Grilled Marinated Vegetables
Easy Creamed Vegetables
Stir-Fried Vegetables
Mashed Potatoes
Easy Cheesy Broccoli Bake
ENJOYING FOOD DURING CANCER TREATMENT
Broccoli-Bacon Salad
Bulgur Pilaf
Savory Black-Eyed Peas with Bacon
Wild Rice Stuffing
Barley and Asparagus
Orange-Pineapple Fruit Salad
Easy Fresh-Fruit Salad

Treat-Yourself Desserts

Country Fruit Cobbler
Easy Lemon Bars
Pumpkin Drop Cookies
GREAT GIFTS
Rosalie's Orange Butter Cookies
Orange-Cream Frosty
Raspberry-Banana Gelatin Dessert
Gingerbread with Brown Sugar Meringue
Fudge Pudding Cake with Ice Cream
Baked Custard
Rice Pudding

Introduction

Having A Diagnosis Of Cancer
Key to Common Side Effects
Bring Back the Joy of Eating
Be Prepared for a Roller Coaster Ride Coaster Ride
So What Is Cancer All About, Anyway?
Take Control of Your Life
Foods Rich in Essential Nutrients
Eat Well and Enjoy Food
The Importance of Sound Nutrition
Food Guide Pyramid
Enjoy Cooking, Shopping and Eating
Special Diets
Foods for Special Diets
Mind-Body-Spirit Connection to Healing
Beyond Treatment
The ABCs for a Healthy Lifestyle
Onward and Upward

Easy Menus During Treatment

Menu 1
Menu 2
Menu 3
Menu 4
MENU 5
Menu 6
Menu 7
A Two-Day Suggested Eating Plan for Constipation
A Two-Day Suggested Eating Plan for Diarrhea
A Two-Day Suggested Eating Plan for Mouth Sores
A Two-Day Suggested Eating Plan For Nausea
A Two-Day Suggested Eating Plan For Neutropenia

Nutrition and Medical Glossary

Nutrition and Medical Glossary

Helpful Nutrition and Cooking Information

Nutrition Guidelines
Cooking Terms Glossary

Metric Conversion Guide

Metric Conversion Guide

Cook'n & Living with Cancer
$19.95
$14.95

(NOTE:

Cook'n

must be installed to use this Recipe Download)
Not sure what to order? Click Here
Click
here
to learn more about the features of the Cook'n engine.
Click
here
to find out what people are saying about Cook'n.
Cancer Cookware

T-FAL Ultra Compact Steamer - $49.95
Steam food or rice with this easy to use and easy to store steamer.



---

Touch of Oil Sprayer - $6.45
An environmentally friendly, non-aerosol spray bottle for oils and vinegars.