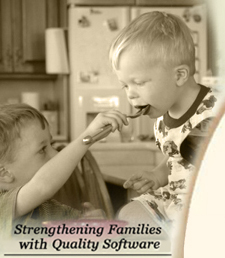 Bread Machines By Betty Crocker!
The Goodness of Homemade Bread
the Easy Way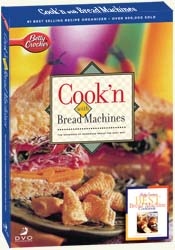 (click picture to enlarge)
Cook'n with Bread Machines
---
List Price: $55.00
Your Price: $19.95
You Save: $35 (63%)


---
NOTE: The download contains the recipes ONLY. You must have Cook'n installed to use this download! The CD contains the Cook'n Recipe Browser. If you want to organize your own recipes you should purchase the Cook'n Recipe Organizer.
---
Availability: Usually ships within 24 hours
System Requirements >>
Not sure what to order? >>

FEATURES
---
Analyze the nutritional value of recipes

Learn bread baking techniques and terms

Create weekly menus & generate shopping lists

Quickly Search hundreds of recipes in seconds
---
Cook'n with Bread Machines combines the powerful features of the Cook'n Recipe Organizer and with 130 scrumptious Bread recipes. You may never eat the same dish twice!>

---

With the press of a button, enjoy an exciting collection of satisfying homemade breads and doughs!

Betty Crocker takes the mystery out of the bread machine and brings you easy-to-use recipes for 1-pound, 1 1/2-pound and 2-pound loaves. Everyone loves fresh bread, but not the time it takes to make it.

Bread machines are great because they take the work out of making homemade bread.

We've packed this CD with over 130 recipes to tempt your taste buds.

There are recipes for breads your machine makes, in addition to recipes for doughs that you shape and bake in a conventional oven. You'll also find easy-to-follow illustrations on how to shape and trim doughs into great loaves of bread!

Best of all, you can trust these recipes will work in your bread machine because the Betty Crocker kitchens have tested every recipe in many different machines to ensure success at home. There's nothing better than the taste of homemade bread-and no one brings it to you better than Betty Crocker.

130 recipes, photos, instructions, and more!
• See the recipes that come on this CD.
• Learn more about the features of the Cook'n engine.
• Find out what people are saying about Cook'n.
---
Customer Reviews


---
---
Customers who bought this item also enjoy: