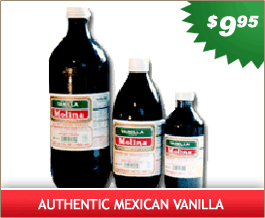 Molina® Old Fashion Mexican Vanilla
Turn your recipes into instant sensations!
Perfect for pies, pastries, ice creams, cookies, yogurts, drinks, desserts, baking, confectionery




120 ML (4 fl oz): $5.95


250 ML (8.4 fl oz): $9.95


1 Liter (33.8 fl oz): $22.95


Availability: Ships Maņana

Do you know what makes cookies, pies or pastries simply sensational?

Great recipes always have a "secret ingredient", like Mexican Vanilla!

On a recent trip to Arizona, Kathy and I went across the border and discovered Mexican Vanilla, and we absolutely LOVE IT! We were so excited, we contacted the manufacturer and can now offer the same vanilla to you.

Click here to see Kathy explain how she found it...

If you've never tried it before, Mexican Vanilla adds sensational flavor to pies, pastries, ice creams, cookies, yogurts, drinks, desserts, baking, confectionery and more. Now you can be the one with fabulous food that people are asking about!

NOTE: This vanilla is produced by Molina (a pioneer of Mexican vanillas since 1944), is FDA approved and does NOT contain Coumarin. * Vanilla comes in plastic bottle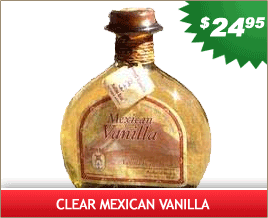 Clear Mexican Vanilla made with Real Vanilla Beans
Mexican Vanilla In Hand Blown Glass!
Add Real Mexican Vanilla to your Baking and Taste a Real Difference



568 ml. (20 fl. Oz) : $24.95


1 L Plastic Bottle: $22.95


Availability: Ships Maņana

Mexican Vanilla is one of the precious gifts of nature with its sweet seductive fragrance. It really makes your cooking experience more meaningful especially when everyone gawks about just how wonderful it tastes.

You can really taste the difference.

For cooking: The delicious vanilla flavoring can be found in desserts, pastries, ice cream, cookies and cakes of course.

There are over a 100+ different vanilla beans but only one tastes this good.

For hundreds of years the Totonaco Indians, inhabitants of the East Central coastal area of Mexico, were the keepers of this secret flavor!

The Aztecs defeated the Totonaco Indians and inherited the secret, who were then defeated by Hernando Cortez in 1520. When Cortez returned to Spain, he not only brought gold, silver, and jewels, but he also brought vanilla pods, which were an instant success!

NOTE:Clear Mexican Vanilla comes in a glass container.