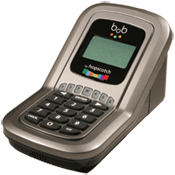 (click to enlarge)
Hopscotch TV Timer
---
List Price: $99.95
Your Price: $74.95
You Save: 25%

---
Availability: Usually ships within 24 hours

.



The Hopscotch TV timer helps parents monitor and manage the time their children spend using in-home media. Bob is an easy to use, small device that sits next to a TV, video-game system or computer. The power cord from one of these devices plugs into the back of the TV timer and is locked in place. Then, the TV timer plugs into an electrical outlet. After set up (a process that takes about three minutes) the machine monitors the amount of time a child spends using that media device.

Parents decide an acceptable amount of viewing time for each child per day or per week. Specific time periods can be blocked entirely for studying, chores, family time, or sleeping. Each child in the house (up to 6 users) has a four-digit PIN that they enter into the TV timer before they can turn on the attached device. Bob tracks the time used. A "master pin" allows a parent to turn on the connected device at any time.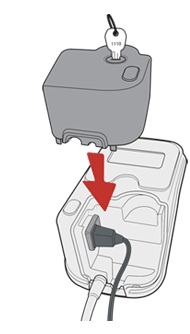 When a child's preset viewing time expires, Bob shuts off the attached TV, video-game system or computer and won't allow it to be turned on by that user for the remainder of the day (or week).
TV Timer Features:
Personal PIN access for every family member (up to 6)
Master-user access (permits access anytime)
Weekly or daily time management
Time reporting for every user
Time-period blocking (to prevent media use at certain times of the day)
Quickly add bonus time or remove time from any user without changing their regular allotment.
Bob works with all TVs (including large screens), gaming stations, and computers.
Big, easy to use keypad for the entire family, even in the dark!
Tamper proof and durable.
1-year manufacturer's warranty. Designed and assembled in the USA.

---
Customers who bought this item also enjoy: