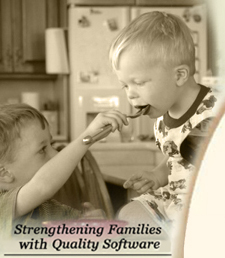 Cook'n with Betty Crocker

$29.95




Cook'n Software Download

$79.95


I ordered the T-Fal Avante Deep Fryer to replace my "Fry Daddy". So far, so good. I especially like the fact that you put the food in the basket, close the lid, and then lower the basket. No more popping grease! The timer allows you to do other things while your food is frying and -- so far -- everything has come out perfect. I would certainly recommend this fryer. The only drawback -- it takes up more counter space than the "Fry Daddy" but I think it's a small price to pay for the quality of the product.



• Current Issue

• Newsletter Archive
• Contact Info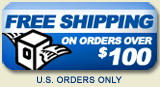 DAILY SPECIAL
Order today and receive a 10% Off All Orders of Cook'n!
Find out how.
T-FAL Deep Fryer
Delicious crisp fried foods
with effortless cleanups!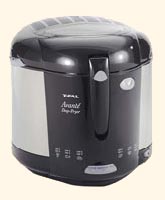 T-FAL Deep Fryer
---
List Price: $92.00
Your Price: $69.95
You Save: $225

---
Availability: Usually ships in 1-2 business days.
FEATURES
---
Extra large capacity, 2.75 lb. of fresh food

Magiclean system: Removeable lid, frying basket and non-stick pot for easier cleaning - All dishwasher safe

Safe to use automatic lid opening button avoids burns

---

The T-FAL Deep Fryer features family-sized, crisp fried foods with easy cleanup. The Magiclean system has a dishwasher safe, removeable lid, frying basket and non-stick pot.

The automatic lid opening button and detachable magnetic safety plug promote safety in the kitchen. The hermetically sealed locking lid prevents dangerous spills and odors. An external integrated basket handle safely raises or lowers the basket while the lid remains closed.



An adjustable thermostat allows you to select the proper cooking temperature. A temperature ready lights lets you know when that temperature is reached. An electronic timer lets you know when the food is done.

The deep fryer has chrome sides, a foam filter, and an on/off switch.

---
Customers who bought this item also enjoy: