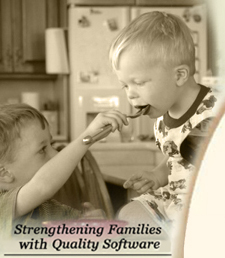 Stand Mixer Model 2367
Sunbeam MixMaster Stand Mixer
with Stainless Steel Bowls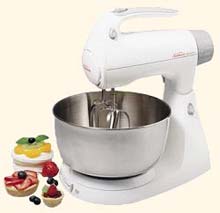 Sunbeam Mixmaster
---
List Price: $184.89
Your Price: $99.95
You Save: $85
---
Availability: Out of Stock.
FREE CD with purchase

Straight from "America's
Most Trusted Kitchens", get
1000 recipes from Pillsbury's
Complete Cookbook, with hundreds
of photos, video clips and more.
FEATURES
---
Versatile 12-speed motor with 275 watts of power
Burst of PowerŪ feature automatically increases beater speed by 150 RPMs
Head lock control delivers extra control while mixing and added convenience when cleaning
Includes dough hooks for heavy batters and bread dough
Easy bowl adjustment for changing bowl sizes
Two stainless steel bowls for large and small batches

---

The Sunbeam Mixmaster Stand Mixer is built for heavy-duty mixing. This unit comes with a powerful mixer head, stand base, removable turntable, 1-1/2-quart and 3-3/4-quart stainless-steel bowls, oversize chrome beaters, and dough hooks.

A large dial control at the heel of the mixer controls the speed setting--from 1 (fold/knead) to 12 (beat egg whites). This mixer is powerful enough to handle all your mixing chores. Stir, blend, mix, and whip an array of ingredients.



A separate burst of power button lets you increase speed for added power. The specially designed beaters are contoured to conform to the dimensions of the mixing bowl, providing automatic bowl rotation and more thorough mixing. Plus, beaters have no center post for dough to "climb" and clog the mixing action.

A two-position turntable snaps in place for hassle-free operation. The mixer head tilts up and locks in place providing easier bowl access and facilitating beater removal. A mixer release trigger lets you remove the mixer head from the stand for convenient storage. Other features include a beater eject button, comfortable open handle grip, and rubber feet for stability. Beaters and bowls are dishwasher safe.

Free shipping saves you $20 in shipping costs!
---
Customers who bought this item also enjoy: