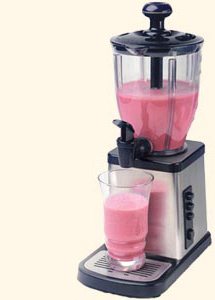 Smoothie Maker
---
List Price:$84.95
Your Price:$59.95
You Save: $70
No longer in stock!
---
Availability: Usually ships in 1-2 business days.
FEATURES
---
700 watt pulse power
Mixing container has a 7-cup capacity
Fits glasses up to 6 1/2" high
Smoothie easy-to-pour spout to ensure NO MESS!!
Stainless steel base, drip tray, and hardened blades
---
This VillaWare Smoothie Maker is the perfect way to have a rejuvenating, fruit-tasting smoothie every day of the year. Just add your favorite ingredients, mix, and enjoy a healthy and delicious drink.

The Smoothie Maker has simple easy-to-use control settings like: on/off, Hi, Lo and pulse blending. The mixing container has a large 7-cup capacity, and also has convenient measuring marks for accuracy. This Smoothie Maker's base and drip tray are made of stainless steel to insure durablity. The mixing container can be removed, but there is no need because of the convenient pour spout, which will help reduce the mess. The Smoothie Maker also has a smoothie stick that will help break up the larger ingredients and air pockets.

This Smoothie Maker is easy-to-use and will make a great gift for anyone you know; including yourself, you deserve it!


---
Good and solid with a heavy enough base/motor. When I used it I was surprised at how thorough it blends the stuff. Used ice cubes, too, and was very pleased at the consistency of the smoothie! Great deal for the price!
--David
---
Customers who bought this item also enjoy: